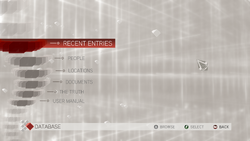 数据库(Database)是通过使用Animi或Helix设备获取的、提供丰富资料的文章合辑。这些文章提供了在探索基因记忆的过程中关于遇到的人物、地点、物品以及事件的背景信息。
Animus 2.0
编辑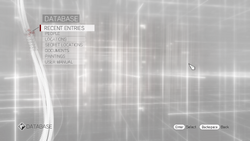 数据库在 Animus 2.0版本中被首次引入,这个版本的设备是由刺客瑞贝卡·克瑞恩制造的。数据库中的条目由肖恩·黑斯廷斯撰写,可以让戴斯蒙德·迈尔斯在探索埃齐奥·奥迪托雷的记忆时找到相关的人物,景点条目信息。
肖恩和瑞贝卡都可能会添加自己的评论或细节,包括符文的提及和数据库中其他的一些重要景点条目。[1][2]
Animus 2.0 数据库条目列表如下:
Animus 2.01
编辑
Animus 2.01 数据库条目列表如下:
Animus 2.03
编辑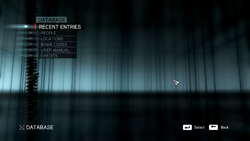 Animus 2.03包含的数据库是由
克莱·卡茨马雷克
的虚拟构建体建立的。在戴斯蒙德因为在
大竞技场
发生的事件陷入昏迷后,克莱接手了肖恩的工作。和之前的版本一样,数据库条目将在戴斯蒙德碰到相关对象后变得可读。 
[3]
失落的档案,包含了一部分克莱自己的记忆,可以通过Animus之岛的传送门进行访问,同时它也有着自己的数据库。它的数据库记录了解码碎片和信件,还有语音记录的字幕。[4]
语音记录在完成第一个记忆后就可以查看,解码碎片和信件在收集后就可以直接查看。[4]
失落的档案
编辑
Animus 3.0
编辑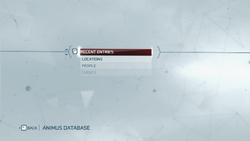 Animus 3.0的资料库再次由肖恩创立组成,他将常更新有关戴斯蒙德正在探索拉通哈给顿的记忆信息。[5]
不同部族的信息是由肖恩的一个朋友提供的——他认为这些数据是用来做展示的。资料库还包括了动物的文件夹,内容描述着它们的行为以及可以有效地猎捕它们的各种手段。[5]
Animus 游戏机
编辑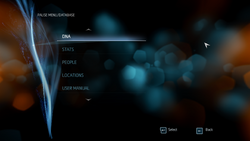 Animus 游戏机的资料库由阿布斯泰戈娱乐的员工们撰写组成。由于设计出《解放》的目的是为了让圣殿骑士增加正面性,因此重要的资料往往被消除、窜改甚至完全伪造。[6]
为了抵制这点,被称为博学者的黑客集团积极地将真相在游戏中重现,让玩家用不偏见的观点来查看信息。[6]
Animus Omega
编辑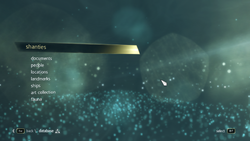 Animus Omega 的资料库由阿布斯泰戈娱乐的员工们撰写组成。因此,其中的内容可能有了变化,像是梅兰妮·勒梅、奥利佛·加奈尔以及其他人经常在条目上评论。[7]
Assassin's Creed - Freedom Cry
编辑
Aveline DLC
编辑
Identity Project
编辑
The database for Identity Project as Codex Scroll.[8] The entries of Golden Age of Piracy has no employees' remarks.[9]
基于 Helix 的 Animus Omega
编辑
透过 Helix 伺服器组成资料库的 Animus Omega。
Various databases where available through the Helix navigator. In addition information about the subjects encountered in the simulation, the database could also collect digital documents collected from outside sources as well as be edited from outside the servers (as demonstrated by Shaun Hastings).[10]
The Helix navigator database had many iteration with different subject matter depending on the time period simulated and the user.[11]
法国大革命
编辑
While exploring the genetic memories of Shao Jun in Ming era China, the database consisted of three categories: people, locations, and documents. The latter category also contained entries about items.
The same three categories made up the database for the genetic memories of Arbaaz Mir in India during the eighteenth century.
During the exploration of the genetic memories of Nikolai Orelov, as well as Anastasia Nikolaevna of Russia, the database consisted of the same three categories too.
维多利亚时代伦敦
编辑
在2012年的现象之后,黑客组织起始开始编译涉及已知的刺客和圣殿骑士的资料库条目。[12]
参考与来源
编辑