本条目包含未翻译内容。您可以帮助刺客信条 维基来 翻译这个条目。
Assassin's Creed, also known as Assassin's Creed: Assassins, is a comic series published by Titan Comics.[1] An ongoing series with a planned duration of at least three years,[2] the first issue was released in October 2015.[3][4]
However, in 2016, Titan announced that after its fourteenth issue, Assassins along with its companion series, Templars, will be relaunched with a different creative team as a new title: Assassin's Creed: Uprising.
Assassins' first story arc takes place in the late 17th century, during the Salem witch trials, with the parallel modern-day part featuring an espionage tale.[5]
The second story arc takes place during the Inca Empire in the past, running parallel with the modern day story featuring Erudito.[6]
The third story arc takes place in Florence during the early 16th century, running parallel with a modern day story again featuring Erudito.
Press release
编辑
Titan Comics is thrilled to announce it has secured the license to publish Ubisoft's Assassin's Creed comics!
Assassin's Creed is one of the most popular franchises in the video game industry, with more than 93 million units sold since its inception in 2007. Over time, Assassin's Creed has broadened its reach into numerous media beyond games, enriching the Assassin's Creed lore for the joy of many fans.
Titan comics will soon expand the realm of Assassin's Creed visual storytelling with the creation of a brand new comic series.
"We're so excited to be working with Ubisoft on this fantastic new adventure, said Lizzie Kaye, editor, Titan Comics. "Assassin's Creed is one of the most notoriously beautiful games on the market, and the team at Ubisoft have created a world that is perfect for us to explore, expand and inhabit with a raft of new characters in new settings. We're really hoping to surprise readers with the direction for this new series."
The first 5-part arc will be illustrated by the artist of Doctor Who: Four Doctors – Neil Edwards![7]
Issues
编辑
Trial by Fire
编辑
14/10/2015 - Solicit: Charlotte de la Cruz is over-educated and underemployed, wasting her time in a dead-end job in San Diego, and spending her free time chasing down conspiracy theories on the dark side of the internet.
When a real-life conspiracy crashes into her life, she's pulled into the orbit of the Assassins, a mysterious organisation of principled killers with roots stretching back thousands of years - and users of the stolen Animus technology, which allows them to experience the memories of their ancestors as if they were there!
Charlotte has a secret in her blood... the genetic memory of an ancestor who was in Salem at the time of the infamous witch trials: Tom Stoddard, an Assassin who witnessed a dark act with repercussions for the present day!
As Charlotte is trained in the Assassins' art, and as she begins to investigate the life of her ancestor... the forces of the Templar Order move against her. Will Charlotte learn the skills she needs to survive, and the truth she needs to prove her worth - before the Templars silence her forever?!
1852: The California Gold Rush. A female Assassin is pursuing John Sutter on horseback in the Great Basin Desert. Using her rope launcher, she mounts his carriage and dispatches the drivers. She informs him the Maidu want the gold he stole returned, before firing her rifle at an incoming rider.
2015: San Diego. Charlotte de la Cruz is playing this memory on her Helix, while chatting to another player. He invites her to meet, but she is creeped out that he knows that she lives in San Diego. She heads to a job application for the charity World Share, which ends with her storming off when she realizes her interviewer will probably give the position to her own daughter.
Back behind her desk at Malta Banking Corporation, Charlotte transfers ten thousand dollars to Ms. Morehead so she can pay for her daughter's healthcare. Charlotte instantly regrets her decision, realizing she will be fired. Returning home dejected, she is shocked to see Xavier Chen and Galina Voronina standing in her apartment. However, when they introduce themselves as being from the "Brotherhood", she rejoices, explaining she knows about them after trawling conspiracy websites.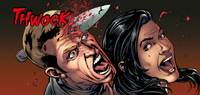 Just as she declares she will join them, a group of Templars knock at her door. Assuming they have come about the money transfer, she opens her door, enabling them to barge through. A thug grabs Charlotte, but Galina rescues her by throwing a knife through his head. She then jumps off the apartment balcony onto the next building, urging Charlotte to follow. After hesitating, Charlotte jumps...
...and wakes up greeted by a seagull. Xavier and Galina greet her, having taken her to their cell's hideout in the
Salton Sea
. They introduce her to their technician
Kody
, who was the one who found her online, and the
Animus
.
They explain an Assassin named
Joseph
, whom they believed dead, reemerged at the Templars' headquarters, promising to reveal the location of an
object
they want. Joseph messaged them, explaining that it was a ruse to draw out a top Templar in San Diego. They need Charlotte to relive her ancestor's memories to verify what Joseph told the Templars: that the object was hidden in
Salem
during the
witch trials
.
1692: Salem Village. Charlotte is reliving the memories of Thomas Stoddard, who arrives to witness the hanging of Bridget Bishop. Stoddard walks away, and Charlotte's attempt to intervene causes her to desynchronize. As she pukes onto the floor, Xavier and Galina argue, as the latter has decided Joseph is a traitor. Charlotte declares she is going back in.
11/11/2015 - Solicit: Events in Salem turn terrifying as Assassin Tom Stoddard faces the townspeople's rising hysteria while they bay for the blood of supposed witches. Viewing his memories, Charlotte witnesses how deep the feud with the Templars goes — and how brutal the choices to be made in her new life will be!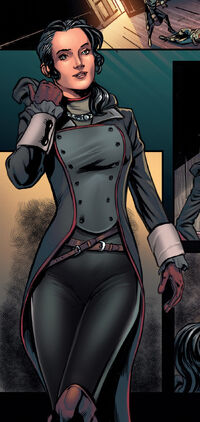 1692: Salem Village. Charlotte de la Cruz relieves the genetic memories of her ancestor, the Assassin Thomas Stoddard, as he prepares for a meeting, having recently arrived at Salem from London. When two men walk in Stoddard greets them and explains that he brought goods from China for sale, to which one of the men asked if he had spices, specifically cassia. Stoddard suspects something is wrong and asks them for a way to travel to Andover, to which the men answered horseback, revealing that they did not know the counterphrase. At this moment Stoddard attacks the men and quickly dispatches them, however a third man approached from behind with a knife. Before he manages to attack Stoddard, he is strangled by another Assassin. The Assassin recites the counterphrase, "Forest Dark", and introduces herself as Jennifer Querry. However before she can finish her introduction, Stoddard interrupts her and berates her as they could have only learned the first part of the counterphrase from her.
Querry claims that she has a lead on the artifact that Stoddard is pursuing, and she and Stoddard climb to the top of a building, when Charlotte realized that Querry must be Joseph's ancestor. Querry introduces the town to Stoddard and explains the local situation: starting in January, a girl came down with an illness unexplained by the doctor, then other girls started having seizures, which she claims were faked, leading to the church claiming the illnesses resulted from the devil, after which hysteria took the city and people started accusing each other of witchcraft to settle grudges. She then explains that the Templars later arrived to see if there was something more to the incident.
Querry claims the Templars believe some of the girls' behaviors to be genuine. She asks Stoddard if he is truly an expert at finding Pieces of Eden, which he confirms. She then explains that she's allowed near the girls due to her being a nurse and that this is the first assignment for the Brotherhood. Stoddard suddenly stops and hides, asking Querry about a couple of men walking near them: Reverend Samuel Parris, a Templar under whom the accusations of witchcraft incremented tremendously and Justice William Stoughton, who orders the hangings of those Parris accuses. Here, Querry and Stoddard overhear a conversation between the two: due to bodies found at the docks, more guards will be posted. Stoddard once again berates Querry for allowing this to happen and demands the location of the girls.
Later, at night, Querry shows Stoddard the location, explaining that even though she's been inside the building as a nurse, she cannot account for the amount of women that go in but don't come out alive or dead. Skeptical, Stoddard still enters the building to find them using a rope to enter the building through a window, killing a guard inside. Shortly, Querry enters the building as well to find it mostly empty. Here she discovers a secret entrance behind a lit fireplace, leading deep underground. In the basement, Stoddard and Querry find women in cages, which Querry wants to free but Stoddard refuses, telling her to focus on the mission. Stoddard asks a boy called David, though the girl next to him, Dorothy Osborne, explained that he was mute and that she could show Stoddard the Piece of Eden. This prompts him to free both, as she leads them further down the basement.
Meanwhile, upstairs, Parris and Stoughton discus the happenings, having allowed Stoddard to track the Piece of Eden as they believe that he would lead them to it. Following this, the men head outside to a growing crowd and incite them, claiming that the Devil was inside the building. Back inside, Stoddard and Querry follow Dorothy to a dead end as the villagers begin storm the building. At the dead end, Stoddard threatened Dorothy for leading him there, promising to let the villagers kill her first.
2015: San Diego. Charlotte struggles to stay inside the Animus as she fails to synchronize with Stoddard's methods, although Kody attributes her struggle to her being inexperienced with the process. Galina and Xavier meanwhile, discuss her progress, with Galina implying that Charlotte would not be able to synchronize with Stoddard and Xavier disagreeing with her. Galina in turn compares her to Joseph, saying that people can't change who they are, and that Joseph was finally showing his true colors by allying with the Templars. Kody reports that Charlotte has stabilized but if she continues to struggle she could damage herself.

1692: Salem Village. Tom Stoddard struggles with David as he attempts to help Dorothy, but Stoddard pushes him away, striking him against a wall. Dorothy tells Stoddard to leave him alone and she would show him what he was looking for. Dorothy then says that there is no Piece of Eden, before she falls back, her eyes turn white as she speaks to Thomas, reciting the last words his father said, a passage from Dante Alighieri's work. Realizing that Dorothy herself is the "artifact" they were looking for, Stoddard informs Querry and tasks her with finding them a way out as the villagers attack and he fights them off.
09/12/2015 - Desperate to escape from the horrors of Salem, Tom must place his trust in the hands of a stranger, and go against every instinct he has as an assassin, and man, to save the terrified travelers relying on him. For Charlotte, time's running out as the Templar threat moves closer...
2015: Galina and Xavier continue to argue over how to utilise Charlotte. It is revealed by Kody, the team technician, that Joseph is being held by Didier Hawking, a high level Templar with a specialization in memory hacking.
It is feared that Joseph will reveal their location. As such, the team decides to load the Animus into a van to allow Charlotte to keep searching during their relocation.
1692: Tom manages to fight off the angry mob, whilst Jennifer finds a hidden passageway to escape the dungeon.
They are chased into the surrounding woodland, where Jennifer is shot whilst trying to carry David. Tom chooses to escape with Dorothy, putting the mission first.
Once clear of pursuers, Dorothy falls into a trance and declares that she is Consus - a First Civilization entity - whom is inhabiting the body. Consus leaves a message for Charlotte to seek out "The Ones with great knowledge."
Jennifer eventually catches up with Tom, as Templars follow shortly behind her. Tom and Jennifer are captured.[8]
13/01/2016 - The clock is ticking and Charlotte has a bad feeling that she just can't shake. When another visit to Tom's memories reveals a horrifying truth, it's the blow that finally transforms her from Initiate to true Assassin as she puts aside her own safety for the good of the Brotherhood.
2015: Believing that nothing further can be gleaned from Charlotte, both Xavier and Galina head out to try and rescue Joseph from the Templars.
Charlotte re-enters the Animus on a hunch and discovers that Joseph had been telling the Templars the truth all along.
1692: Tom and Jennifer are being tortured, in the same dungeon that they escaped from. After a distraction from Consus, Jennifer manages to free them both. She is mortally wounded by Stoughton whilst trying to obtain weaponry.
Stoughton attempts to kill Tom, but is knocked out. As Tom attempts to escape, he is shot by a recovered Stoughton.
Declaring the imprisoned girls to be a new breed of oracles, Dorothy is overtaken by feelings of guilt, and takes her own life by fire.
Enraged, Stoughton declares that all women shall be tried for witchcraft and attempts to kill Tom. He is shot by fellow Templar, Parris.
Parris clearly has misgivings about Stoughton's methods and takes control of the situation. He releases Tom, David, and the girls.
Tom and David bury Dorothy and Jennifer on the outskirts of Salem. The location of their burial is now known.[8]
10/02/2016 - Charlotte has to call on all she has learned from her ancestor Tom Stoddard to save her cell from decimation at the hands of Abstergo. In doing so, she learns more about herself, and more about the Brotherhood than she expected, and is forced to decide where her loyalties lie!
2015: With the realization that Joseph knows the location of Dorothy's body, Xavier and Galina have clearly been sent into a trap. Charlotte decides to go in after them, and is given the familiar Assassin hoodie attire by Kody.
She manages to infiltrate deeper into the building by tricking an employee to open a secured door. She binds the man and presses on, declaring herself to not be a killer to Kody.
Xavier and Galina locate Joseph in a cell. A battle ensues, whereby Galina suffers a leg injury and Xavier is drowned by Joseph in a nearby pool.
Charlotte intervenes, attempting to prevent Joseph from harming Galina. Joseph reveals that the Assassins are using Charlotte for her power.
A bomb explodes, evidently created by Joseph. It is assumed that Didier Hawking and most of his staff are killed.
As Templar agents storm into the room, Joseph escapes. Charlotte rescues Galina, who escapes via a ventilation shaft, as Charlotte can apparently see through walls.
On their way out of the building, Charlotte discovers the man that she bound has died. He suffered from asthma and had suffocated. Charlotte is riddled with guilt over his innocent death.
Galina advises Kody to contact Gavin Banks, an Assassin Mentor, advising that the Brotherhood needs to get to Salem as soon as possible, as they do not know if the Templars are already on their way.
Charlotte reveals that Joseph did not tell the Templars the location, as she can apparently read minds. Galina thanks Charlotte for saving her life, finally believing in the novice Assassin.[8]
Setting Sun
编辑
Homecoming
编辑
Collected editions
编辑
Gallery
编辑
References
编辑
Assassin's Creed (Titan Comics)

这个词条有对应的画廊页面
《刺客信条:刺客》

角色
派系
地点
事件
术语与概念