X Marks the Spot was a virtual representation of one of Ezio Auditore da Firenze's genetic memories, relived by Desmond Miles in 2012 through the Animus.
Description
On collecting all of the Codex pages in Italy and having them decoded by Leonardo da Vinci, Ezio met with his uncle Mario Auditore and the other Assassins at the Villa Auditore to find the vault.
Dialogue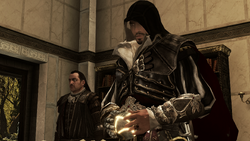 Ezio and the other Assassins gathered in Mario's study.
Ezio placed the Apple of Eden on the pedestal in front of the Codex pages and assembled the map, causing the Apple to activate.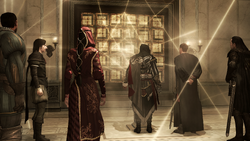 Outcome
The Assassins discovered the location of the Vatican Vault, and Ezio went to Rome to assassinate Rodrigo Borgia.
Trivia
Gallery
References