Raise a Floppa - The Loop
Play Sound
X Marks the Spot was a virtual representation of one of Ezio Auditore da Firenze's genetic memories, relived by Desmond Miles in 2012 through the Animus 2.0.
Description
After collecting all of the Codex pages in Italy and having them decoded by Leonardo da Vinci, Ezio met with his uncle Mario Auditore and the other Assassins at the Villa Auditore to find the vault.
Dialogue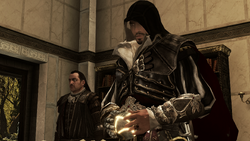 Ezio, Mario, Niccolò Machiavelli, Teodora, Antonio de Magianis, Bartolomeo d'Alviano and Paola reunited at the Villa's study in front of the Codex Wall.
Ezio stared at the wall and used his Eagle Vision to place the pages in the correct order, assembling a world map made of curious red markings. He then placed the Apple of Eden on the pedestal in front of the wall, causing the artifact to activate and project several golden light beems, which pointed to five locations of the globe. Ezio used his special gift again to examine the locations pointed in the invisible drawings.
Ezio slowly approached the map and noticed that two of the beems converged right in the middle of the Italian Peninsula.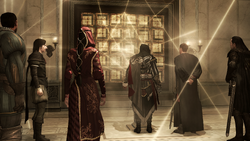 The Assassins gathered in a circle.
The group dismissed.
Outcome
The Assassins discovered the location of the Vatican Vault, prompting Ezio to go to Rome in order to assassinate Rodrigo Borgia.
Trivia
Gallery
References