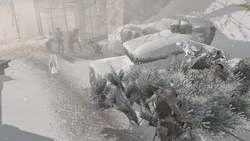 Wolf Pack was an ability used by Ratonhnhaké:ton in an alternate reality created by an Apple of Eden. Ratonhnhaké:ton received this ability, amongst others, after drinking tea from the Red Willow tree and visiting the Sky World.
Ability
When activated, three wolves materialized and attacked one nearby guard each, before disbanding.
Trivia
Wolf Pack is used similarly to how Assassin recruits were used in previous installments.
Gallery
References