"When I started out, I was in such awe of the people who make games [...] While my respect for the members of game development teams has only grown over the years, I now understand that they all struggle daily to achieve their artistic goals, just as I do. Moreover, I understand that my music can help them create the game they want to create."
―Winifred Phillips.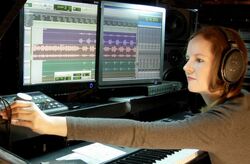 Winifred Phillips is an award-winning composer for video games, television, radio and film. She created the soundtrack for Assassin's Creed III: Liberation.
Phillips has been nominated for numerous awards, and has won sixteen, amongst which are three Hollywood Music in Media Awards and five Game Audio Network Guild Awards, including Music of the Year. Phillips' music is produced by long-time creative partner Winnie Waldron. She is also a published author of a comprehensive resource book about the field of game music, titled A Composer's Guide to Game Music, which serves as a practical guide for aspiring video game composers.
Biography
Phillips' love for music was cultivated in public school, where she was taught many different kinds of music and instruments.[1] From 1992 to 2003, Phillips was the composer, producer and actress in a series of radio dramas titled Radio Tales, which adapted classic works of American and world literature. It was this project that lead her to work together with Winnie Waldron, Radio Tales' creator, who would produce Philipps' music from then on.[2]
By the end of Radio Tales, Phillips wanted to cross over into the video game industry and began circulating demos of her work. She was hired in 2004 by Sony to join a team of composers working on God of War; the soundtrack would receive five Game Audio Network Guild Awards, including Music of the Year. She followed up on this debut with musical scores for the Charlie and the Chocolate Factory and The Da Vinci Code games, published by 2K Games. After this, Phillips composed the music for the Shrek the Third video game for Activision.[2]
After projects such as Speed Racer, SimAnimals and Legend of the Guardians, Phillips began creating music for the LittleBigPlanet video game franchise in 2011. Especially LittleBigPlanet 2's soundtrack was well-received, being nominated for several awards.[2]
In 2012, Phillips composed the soundtrack for Assassin's Creed III: Liberation, with the project winning her many awards. For the music composition of Liberation, she received a Global Music Award for musical excellence. The score also earned Phillips and Waldron a 2012 Hollywood Music in Media Award and a GameFocus Award. The main theme of Liberation won a G.A.N.G. Award from the Game Audio Network Guild in the category of "Best Original Vocal Song - Choral". Finally, the soundtrack received nominations in several year-end award competitions, including the GameZone Awards, the Best of IGN Awards, and the G4TV X-Play Best of 2012 Awards.[2]
In March 2014, Philipps' book A Composer's Guide to Game Music was published by The Massachusetts Institute of Technology Press. It was received very well by critics, who deemed it a "beautifully organized, intelligently written book about music for games" and a "touchstone academic achievement".[2]
In November of the same year, Phillips won a Hollywood Music in Media Award for one of the tracks she had composed for LittleBigPlanet 3.[3]
Discography
1992-2003
2005
God of War
Charlie and the Chocolate Factory
2006
2007
Shrek n' Roll
Shrek the Third
2008
2009
The Maw
SimAnimals
Spore Hero
2010
Legend of the Guardians: The Owls of Ga'Hoole
2011
LittleBigPlanet 2
LittleBigPlanet 2: Toy Story (DLC)
2012
LittleBigPlanet PS Vita
LittleBigPlanet Karting
LittleBigPlanet 2: Cross Controller (DLC)
Assassin's Creed III: Liberation
2013
2014
Trivia
Phillips occasionally contributes vocals to her own soundtracks, as was the case with LittleBigPlanet 2 and Assassin's Creed III: Liberation.[1]
References
External links
Community content is available under
CC-BY-SA
unless otherwise noted.