No Man's Sky Update - The Loop
Play Sound
Speak sense, Templar, or not at all!


This article, or article section, is non-canon. Although licensed by Ubisoft or their affiliates, the information that follows is not considered a part of the Assassin's Creed timeline.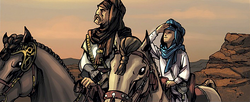 William Miles was a member of the Assassin Order and the father of Desmond Miles.
William lived with his family in a desert community, sometimes taking his son on trips through the barren wasteland surrounding their home. During one such trip, when they were watching an eagle in flight, William warned his son to always be careful of the "vultures", referring to the Templar Order.
See also
References
Characters
Locations
Factions
Terms and concepts