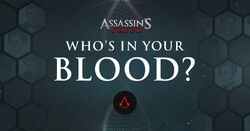 Who's In Your Blood? is a website founded by 20th Century Fox that promotes the launch of Assassin's Creed: The Movie.
The site utilises the surname of the user and their mother's maiden name to find a possible connection to a famous historical figure with variations based on geographic region.
Historical Figures
Asia (excluding West Asia) and Oceania
Russia and Norway
Africa and West Asia
Central Europe
Iceland, Northern and Eastern Europe
British Isles
North America
South America
Reference
Community content is available under
CC-BY-SA
unless otherwise noted.