Who's Got Mail? was a virtual representation of one of Ezio Auditore da Firenze's genetic memories, relived by Desmond Miles in 2012 through the Animus.
Description
After retrieving his money from a pickpocket, Ezio Auditore met with Machiavelli at the Campidoglio, where they then rode to the Colosseum, as Machiavelli's contact was waiting with an intercepted letter.
Dialogue
Ezio and Machiavelli climbed on to their horses. As they rode, Machiavelli noticed a guard.
As they approached the Colosseum, Machiavelli noticed his spy being threatened by a few guards.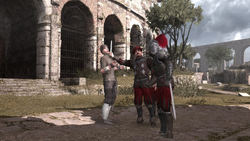 Ezio and Machiavelli then went to save the contact.
Ezio chased the courier and took his letter.
Outcome
Ezio succeeded in acquiring the letter the courier held.
Gallery
References
Community content is available under
CC-BY-SA
unless otherwise noted.