Welcome to Boston was a virtual representation of one of Haytham Kenway's genetic memories, relived by Desmond Miles in 2012 through the Animus.
Description
Arriving in Boston, Haytham was greeted by Charles Lee, who showed him around the city and provided him with a place to stay.
Dialogue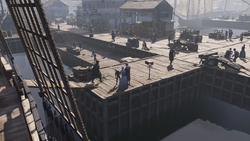 Haytham walked onto the pier.
Charles: Master Kenway! Master Kenway!
Haytham: Yes? May I help you?
Charles: Charles Lee, sir. A pleasure to make your acquaintance. I've been asked to introduce you to the city. Help you settle in.
Haytham moved to pick up his bag.
Charles: Oh no need sir. I've arranged for your bags to be delivered to the Inn.
Haytham: Are you by any chance John and Isabella's son?
Charles: One and the same.
Haytham: Your commission is with Edward Braddock, is it not?
Charles: Aye. But he's yet to reach America and I figured I might... Well... At least until he arrives... I thought...
Haytham: Yes. Out with it.
Charles: Forgive me, sir. I had... I had hoped that I might study under you. If I am to serve the Order I can imagine no better mentor than yourself.
Haytham: Kind of you to say, but I think you overestimate me.
Charles: Impossible, sir. This way.
A woman dropped a box of apples, and a man stole one of them.
Woman: Thief! Someone stop him!
Haytham: Boston's quite a lively city.
Charles: There's all manner of things to see and do. Once you've settled in, I suggest you take some time to walk the streets. Who knows what opportunities you might discover...
Haytham: Hold a moment. I need to fetch a few things before we get to work.
Charles: I'll arrange for horses while you do that.
Haytham parted from Charles to find a general store, where he came across Benjamin Franklin.
Benjamin: Get back here with that, you rogue! Damned sprigs! This accursed city will be the death of me...
Haytham: You seem troubled, friend.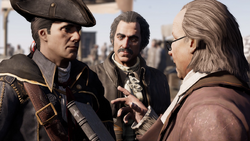 Benjamin: That's because I am. Greatly so, in fact.
Haytham: What's happened?
Benjamin: I was robbed. The old bulk and file... And though I've managed to restore what's mine, I fear it's ruined.
Haytham: You mean, the book?
Benjamin: This is no ordinary book! It's an Almanac. The first I ever wrote. Benjamin Franklin. Pleased to meet you.
Haytham: Haytham Kenway.
Benjamin: You must be new to Boston.
Haytham: Why do you say that?
Benjamin: You're still possessed of virtue. To stop and help an old lout like myself... I... I don't mean to impose, but... you seem a spry fellow. Should you happen to find my missing pages, I'll reward you.
Haytham: Look, I'm not sure if I...
Benjamin: It's alright, alright. If you have the time, hurrah. If not – no harm done. The thing is useless in its current state anyway. But should you somehow restore it, you'll find me inside that general store over there.
Haytham: Well that was interesting.
After the conversation, Haytham entered the general store and bought a sword and a flintlock pistol. From there, he met with Charles Lee again, and the two of them began to ride towards the Green Dragon Tavern.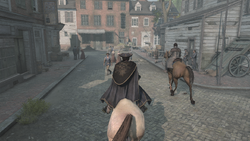 Charles: We ride for the Green Dragon Tavern. The proprietors are... eccentric, but the rooms are spacious and they do not pry.
Haytham: Have you been told why it is I've come to Boston?
Charles: No. Master Birch said I should know only as much as you saw fit to share. He sent me a list of names and bade me ensure you could find them.
Haytham: And have you had any luck with that?
Charles: Aye. William Johnson waits for us at the Green Dragon.
Haytham: How well do you know him?
Charles: Not well. But he saw the Order's mark and did not hesitate to come.
Haytham: Prove yourself loyal to our cause and you may yet know our plans as well.
Charles: I should like nothing more, sir.
Haytham and Charles arrived at the Green Dragon Tavern.
Outcome
Haytham became acquainted with Boston and Charles Lee. He also obtained a sword and a pistol, before arriving at the Green Dragon Tavern to progress with his plans.
Trivia
If the memory is replayed while having crafted weapons equipped, they can be bought and used while reliving Haytham's memories. However, the memory will not proceed until Haytham purchases the Normal Sword and the Flintlock Pistol. If Haytham purchases a crafted pistol, it will appear on his left hip, albeit without a holster.
Gallery
References