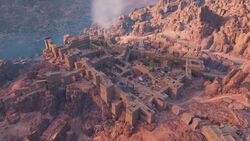 The Walls-of-the-Ruler was an ancient fortification in Madiama Nome in Sinai, Egypt, near Klysma Quarry.
History
In 38 BCE, the castle was under the jurisdiction of Ampelius of Capitolinus, a Roman general who served under Gaius Julius Rufio, both in a military sense and as a member of the Order of the Ancients, in order to guard to Way of Horus.[1]
Later that year, the Walls-of-the-Ruler was infiltrated by Bayek, a Mentor of the Hidden Ones, in order to assassinate Ampelius. After assassinating the Roman, Bayek retrieved the body of a deceased Hidden One, the partner of Maqwat who infiltrated the fort earlier.[1]
Appearances
References
Community content is available under
CC-BY-SA
unless otherwise noted.