Patience, brothers. Soon we will reveal the secrets of Assassin's Creed: Odyssey.


This article has been identified as being out of date. Please update the article to reflect recent releases and then remove this template once done.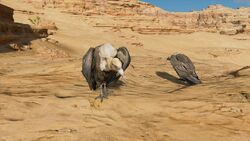 A vulture is a scavenging bird of prey.
History
During the Peloponnesian War vultures were a common sight in Greece. The Spartan misthios Kassandra often saw them gathering around a kill, but the birds were quick to flee as she approached them.[1]
During the Ptolemaic dynasty, vulture skulls were in demand in Egyptian markets and were worth 7 drachmae in 48 BCE.[2]
In 48 BCE, Actaeon, the Order of the Ancients member known by the cryptonym The Vulture was killed in Alexandria by Aya, as a revenge for the death of her son, Khemu.[2]
Trivia
Appearances
References