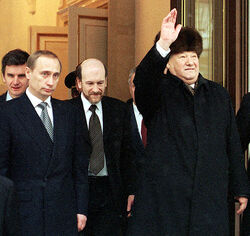 Vladimir Vladimirovich Putin (born 7 October 1952) is the fourth and current President of Russia, from 2000 to 2008 and again from 2012 to the present. He previously served as Prime Minister of Russia from 1999 to 2000 and again from 2008 to 2012. Before his political career, he was known as one of the greatest agents of the KGB, the Russian secret police.
Putin has connections to the Templar organization Abstergo Industries, which helped put his friend, mentor and predecessor Boris Yeltsin in power in 1991. In September 1999, Chechen terrorists bombed apartment buildings in the Russian cities of Buynaksk, Moscow, and Volgodonsk. Secretly orchestrated by Abstergo, these bombings boosted Putin's popularity as a presidential candidate.
Appearances
References
Community content is available under
CC-BY-SA
unless otherwise noted.