Arcane: League of Legends - The Loop
Play Sound
Where are the paintings?


This article is in need of more images and/or better quality pictures in order to achieve a higher status. You can help the Assassin's Creed Wiki by uploading better images on this page.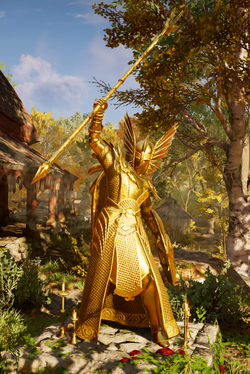 A valkyrie is a female psychopomp from Norse mythology who was believed to lead the souls of fallen warriors to Valhalla.[1]
In 2020, a number of Valkyrie-themed Animus mods were made available to the Assassin Layla Hassan during her Animus session reliving the memories of the Viking shieldmaiden Eivor Varinsdottir, which allowed Eivor to wear a set of armor inspired by the spirits, decorate Ravensthorpe with Valkyrie statues, and display sails and other finery featuring the Valkyrie aboard her personal longship.[1]
Appearances
References