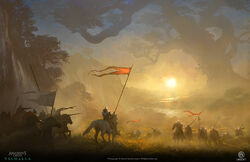 Valhalla is an aspect of the afterlife in Norse mythology. Described as a massive hall ruled by Odin in Asgard, it was where fallen honored warriors, handpicked by Odin himself or his Valkyries, would join the einherjar and gather to dine with the gods.
History
During the 9th century, Svala, a reincarnation of the Isu Freyja, had successfully managed to regain all her knowledge and memories of her time as Freyja. With the dreaded realization that her death was imminent, Svala began secretly visiting Yggdrasil, the secret Isu tree of life below Hordafylke. She used her knowledge of Freyja to use the machine successfully in order to spend time in the Valhalla simulation. Due to her renewed vigor and youth inside the simulation, she would eventually resign herself to that simulation and forgo any desire to return back to life. [1]
Influence
During the 9th century, the place featured heavily in the every day life of the Vikings, as their attempts to settle in the British Isles was fraught with clashes with the locals.[2]
Appearances
References