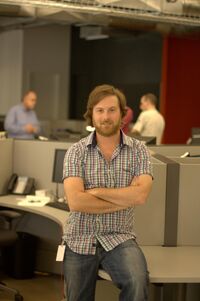 Assassin's Creed creator and the franchise's former creative director Patrice Désilets has left Ubisoft once again. The 'good faith discussions' between Ubisoft and Désilets to revitalize their relationship were unfruitful and Désilets has opted to leave the company again.[1]
Désilets was forced to return to Ubisoft after the company bought THQ's Montréal studio earlier this year, after THQ auctioned its properties due to bankruptcy. Désilets previously left the company in 2010, during the production of Assassin's Creed: Brotherhood, after creative conflicts with Ubisoft. Désilets later got a job at game developer THX and spearheaded their new studio in Montréal, working on new IP 1666.[2]
Animosity arose when Désilets told THQ that he needed several of his old Ubisoft colleagues for the new studio, and they were given new contracts by THQ. Ubisoft filed a lawsuit against THQ to get a prohibition to prevent THQ from soliciting Ubisoft employees. The court agreed with THQ that it did not commit any illegal act.[3]
It is not known what will happen to the production of 1666 and THQ Montréal's other IP Underdog now. Désilets told GameInformer: "I'll survive."[1]
UPDATE: Désilets has since told Polygon that Ubisoft's statements are not accurate. "Contrary to any statements made earlier today, this morning I was terminated by Ubisoft," Desilets told Polygon. "I was notified of this termination in person, handed a termination notice and was unceremoniously escorted out of the building by two guards without being able to say goodbye to my team or collect my personal belongings. This was not my decision. Ubisoft's actions are baseless and without merit. I intend to fight Ubisoft vigorously for my rights, for my team and for my game."[4]
References
Community content is available under
CC-BY-SA
unless otherwise noted.