"That nasty, sickly sensation in the back your mouth? That is the taste of your fear, blood and my blade. Requiescat en pace" - Subject AMDR
"It's been a long, dirty war, Assassin. Everyone deserves a holiday."

This user is currently inactive

He/she is on hiatus from the Assassin's Creed Wiki and cannot respond to any discussion on their talkpage. For the time being, seek the help of our other prominent editors whenever in need of assistance.
It should be noted that this user is not banned.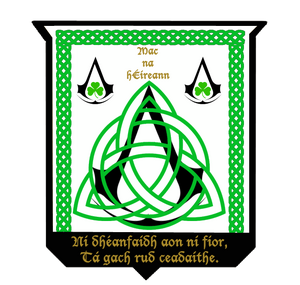 Vittoria Agli Assassini

Location:
Behind You
Gender:
Male
Affiliation:
Assassins
Execution of Choice:
Twin Hidden Blades to the Face
Subject AMDR
Intercepted Email Courtesy Of Erudito
After the escape of Subject 17 from our facility we have introduced new security measures. I have highlighted those that may interest you the most

3.6. All new test subjects will be assigned letters instead of numerical codes.
6.1. Due to infiltration by Assassins, in particular at your facility, all subjects will now remain under 24hr surveillance and are only to be in direct contact with yourself.
6.4. You will report on an hourly basis. Lack of progress will not be tolerated.
Subject AMDR has showen great promise so far, especially with such little time spent in the Animus. He has a particular interest in giving himself extra missions to ensure he fully understands all aspects of the memories he is exploring. You are to keep a blog on his findings which will be utilised by the Research Dept. in the Detroit facility.
Failure to comply with these new procedures will result in your permanent removal from office.
Abstergo Industries has taken a very keen interest in your newest assigned subject and will be monitoring your results very closely. I advise you do not disappoint our superiors on this one.
May the Father of Understanding guide you.

Status Report
You may find the following information on Subject AMDR interesting
























| | |
| --- | --- |
| This user has helped the wiki achieve 1000 articles and has earned a mouthful of the Assassin's Pudding. | |









Database Entry
Given the nature of our organisation, it would probably not surprise you to discover that very little is known about Subject AMDR. We have complied all known information, gathered through detailed analysis, and stored in the database for your reference.
Subject AMDR likes Nature.
Subject AMDR is a Rock Climber.
Subject AMDR is located in Ireland.
Subject AMDR is the Lord of the Creed
Subject AMDR speaks English and some French.
Subject AMDR has been known to suffer from the Bleeding Effect.
Subject AMDR is an avid fan of Tolkien's Works and Assassins Creed.
Subject AMDR has a distrubing collection of DVDs. (Horror ranks as his No. 1 genre)
Subject AMDR is a Traceur. (How we managed to detain him is highly confidential)
Subject AMDR likes Final Fantasy. (We suspect he is a big gamer, but his list of probable interests is too long)
Wiki Activity
Wiki Project Contributions:
Currently going through all main memories of Brotherhood. *Project Member*
Continually add content to, and keep a general eye on, the Timeline. *Project Member*
- Special thanks to Subject 16*, 'R BlaiddDdraig, War Clown, DanMan7308 and Vatsa1708 for their help, advise, input and continued support so far on the memories project! (And anyone else I've missed, sorry)
Created Articles:
Revamped Articles:
Other Contributions:
Corrections and edits where and when required.
Undo vandalism when I catch it. (Though the staff are pretty good at keeping on top of this).
Help on the forums when I can.
General discussions on how to improve articles or how they should look.
Talk to people! :D

Community content is available under
CC-BY-SA
unless otherwise noted.