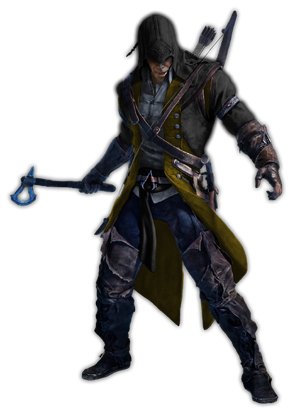 Well howdy there. How ya doing? You can call me Stormbeast, Storm, Blaine, BlaineStorm, or whatever you can come up with that's appropriate.
You're about to embark on a fantastic journey through my userpage. I ask that you keep your hands on the computer at all times and enjoy the ride. If you need anything, just drop on by my talkpage and ask me.
---
Wiki
---
I joined this wiki in June 2011 and took on an Apprenticeship in March of 2012 under the great and powerful Aussie. In December 2012, I became a Staff member here, taking on my own Apprentices here and there. In July 2014, I became one of the founding members and Administrators of the Assassin's Creed Fanon Wiki.
I've played all the main console games several times and the spin-offs a couple times. I would say my knowledge of the franchise is about half-par compared to the other members here, especially Sima.
---
Home Life
---
I used to live at home with my parents and our four cats. I currently live in an apartment with one roommate. When I'm not at work, I'm usually in my room playing my PS3/PS4 or surfing the web on my laptop.
---
Work
---
I got my first job as a paper-boy in January of '05. I had to wake up at 3 A.M. everyday and deliver to over a hundred customers. I kept it until the January of my senior year of high school in 2010. When I turned 16, I got a job at a local grocery store. And I do mean local; I could walk there in about 5 minutes. I was a "carry-out". Basically I stocked shelves and carried customers' groceries out to their vehicles for them. In June 2010, I picked up another job in the grocery store as a deli clerk. Shortly after that, though, I was dropped as a carry-out and worked full-time in the deli. Taking what I learned in my six years at that grocery store, I applied for jobs in my new locale and was hired for the bakery department of a larger chain-company.
---
Future Career
---
Like most students, I had no idea what I was going to choose for a career. At first I thought I'd be a professional photographer due to my love for taking pictures whenever I could get the chance. Without professional training, though, I chose to take up a new career path. I first noticed my new path while taking a couple classes, record-keeping and accounting. I took to it like a natural, being in the top two of my class, along with one of my friends. While thinking about this, I come to discover that both my mom and my aunt got their degrees in accounting. I went to a local community college (same one they went to), studying to become an accountant. After three years there, I moved to a university to earn my accounting degree. After that tanked, I resigned to work more until I can figure out what I want to do.
---
Vacation
---
Every year, my family takes a trip down to Missouri, just one state below us. While we're down there, we usually see a couple comedy shows, go to a water park, and an amusement park. The majority of that place is roller coasters, which I am not fond of. I stopped going to that amusement park four years ago and, instead, spend my time playing cards with my grandfather or swimming in an indoor pool.
Also, in my freshman year of high school, I went on a summer class-trip to Washington D.C. Along the way, we stopped in Chicago, IL to visit the Sears Tower, South Bend, IN to visit the University of Notre Dame, and Gettysburg, PA to see the battlefield. When we finally arrived in D.C., we visited the Capital, Lincoln Memorial, and outside the gates of the White House. All-in-all, it was a very intriguing trip.
Films

Books

This is a very small list o_o

Television

Video Games
---
FAQ
---
Q- Why are you called Stormbeast? Did you take it from Star Wars?
A- No, I did not take it from Star Wars, nor is it a combination of Storm and Beast from the X-Men. It's merely a name I chose based on my real-world nickname, BlaineStorm. A couple friends of mine were going to say "brainstorm", but my name came up instead and it stuck.
Q- What's your favorite color?
A- My favorite color is green for two reasons.
Emerald is my birthstone.
The green Power Ranger was my favorite when I was a kid. :P
If you have another question, don't be afraid to ask. If it's unique and intriguing, it might even make it here. :D
---
Gallery
---
---
Videos
---
Similar to the stagnant project mentioned in my blog, I would like advice on which game to record while waiting for new titles to release.
Which video-game should I play next?
---
Favorite Characters
---
Campaign
Multiplayer
---
Completed Games
---
---
Future Games
---
Guestbook
Hello, you've reached Stormbeast. I'm sorry I can't come to my page right now. If you leave your name (~~~~) and message, I'll be a happy camper.
Example:
Yo, ho, hello. ~~~~
The Book:
Revamped Pages
Pazzi Conspiracy - First Apprentice Task
Clay Kaczmarek - Second Apprentice Task, promoted to FA status
Battle of Agnadello - Third Apprentice Task
Box o' Sand
Community content is available under
CC-BY-SA
unless otherwise noted.