Spanish assassin

Location:
Cáceres, España (Spain)
Gender:
Male
Spanish assassin, great fan of the Assassin's Creed saga. Student of history. I love also the politics, economics and philosophy. Lazy at times.
My favorites Assassin's Creed
Advertisement: This page I have written for the wiki in Spanish. I've translate with love for English wiki. But my English is regular. Sorry for the mistakes.
CONTAINS SPOILERS
6 Assassin's Creed (aka AC: 1)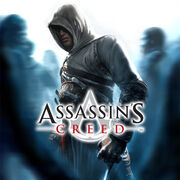 A deep-seated dogma among fans of Assassin's Creed is: "from AC1 and AC2 saga has not been the same." Arguing that the first two games are great works of art and the rest are an exploitation of the saga in deteriorating games. But ... thinking cold, is a great game AC1? First things first:
ACI-Altair When I first played this game I must admit that I loved, but I found it extremely tedious. Clonic missions over and over again, linear development: assassination mission, see Al Mualim, assassination mission, see Al Mualim ... and so on. Also, if we add the lack of secondary activities, a game, in theory, we have pretty bad. Buuuut, still is not.
With AC1 I discovered one of my favorite franchises ever: A compelling story, a beautiful city and impeccable art section. I must admit that I have recently returned to play and I still drool at the sight of spectacular scenarios. Also featured one of the most spectacular characters in the saga: Altaïr Ibn-Ahad.
In difinitiva yes, Assassin's Creed 1 is a piece of kit, but it is the worst in the series.

Note: 9.

5 Assassin's Creed Revelation (aka AC: 2.3)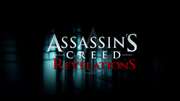 Revelation was a transition game from the saga of Ezio and Assassin's Creed III. It was made in just 10 months after the cancellation of Nintendo 3DS game: Lost Legacy. The result was a pretty decent game brilliantly closes the trilogy, for me, the best character in the history of video games: Ezio Auditore Da Firenze, in addition to driving back to Altaïr. But obviously not enough. 20110715134721! ACR Ezio Auditore The story is one of the best in the series; adult and wiser Ezio, a brilliant location as Constantinople and interesting secondary characters as Yusuf and Suleiman, and a decent antagonist as Ahmet. In addition to this show definitely the enigmatic Subject 16, Clay. But history has a downside, its duration. Like its predecessor, AC: Brotherhood, shows a plot of just about 8 hours, which is never enough, even though the script this beautifully written and gives you the feeling of missing anything.
As for what is a very playable game continuity, being a rehash of the previous games, but telling this with less side quests, so you just keep wanting more. Still had time to innovate, more or less; useless hook-blade and tower defense mode, but an interesting minigame that was missing "something" and was scrapped in sigientes games was introduced.
In general terms we arguably an essential game, but it's more of the same as playable, paving the way for the later games.

Note: 8 remarkable. Yes, he is having less AC1 note, but the note is set according to the sensations who produced me the first time I played them.

4 Assassin's Creed: Brotherhood (Broterhood, alias: AC: 2.2)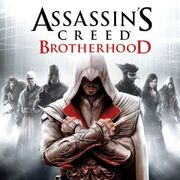 For many it is the pinnacle of the series, not for me, but what is clear is that marked a before and after in this. First by introduccir competitive multiplayer (which almost never played) and, secondly, being released just a year after AC: 2 starting the tradition of a game every year.
For starters, the story, as I said in Revelation, is too short, but in this case is not bad. Ezio's story continues where 2 ended and went deeper in the secondary characters of the latter, which are among the best in the series: Caterina Sforza, La Volpe, Bartolomeo, Machiavelli ... and enemies as Rodrigo Borgia. Also introduced us to Lucrecia Borgia and his fearsome hermo and main antagonist, Cesare Borgia. Maybe Caesar was not too deep as it should be a character, but it was still an interesting nemesis of Ezio.
The story, then, in general terms is good, but somewhat below AC: 2, it loses some of mystery and conspiracy.
The Rome location is fantastic, a huge and beautifully recreated city, but, being the only location you nitpicking.
The strength of this Assassin's Creed is the large amount of side quests: Used Leonardo, rebuild Rome, assassination targets, Templars objectives, missions courtesans, thieves and mercenaries ...
All this, plus the fact that we can build and manage our own brotherhood, Brotherhood makes a great game.

Note: 9.

3 Assassin's Creed III
Bueeeeno, what can we say about this game? For starters it is noteworthy that this game has been unfairly harmed by the fans. Because it was really a piece of game. The problem is the hype generated; what was expected and what was.
After Mr. flawless trilogy Ezio Auditore, Ubisoft Montreal did not present a game that would be a mistake literal revolution for the series case. There were big changes, of course, but not enough. And most unforgivable, the amount of bugs with which it was launched, a pity. But anyway, with all this, Assassin's Creed 3, was an outstanding game, no tuition, but outstanding.
Portrait of Haytham - Concept Art Well, first let's talk about the characters. Ubisoft told us in the campaign of a British-Indian mestizo Kanienkehaka assassin would be the protagonist of this game. But to start the season surprise! Connor did not find, but with a certain Haytham Kenway. Over three sequences drove to a deep, intelligent, witty and charismatic, has undoubtedly left its mark on this saga. In the final sequence we froze to discover that we were not helping the murderous cause, if not the opponents, the Templars. This served to empathize with an order had come to hate in recent games. Thus, after this, the story could not have a better look, an incredible plateamiento, a "human" antagonists and a "provisional" character that made us think that her son would be at its height. But no, sorry, the story from that time became a sort of grotesque decline to end unjustifiable: Where is Charles Lee?
Ainss .. anyway ... Connor, Ratonhnhaké: ton or better called "Sosonor" (yes, he is not very clever ...). A character hated by a good portion of fans, indifferent to others and wanted a few. Connor Was a bad character? No, of course not. What happens is that the shadow of his father is long. Ratohnhhaké: ton has been labeled unfairly be a flat, naive and without any charisma character. Actually, within four months of 3 games driving to Ezio, one of the most colorful characters in the history of video games, the players wanted to be a similar character. But the truth, from my point of view, it is necessary that each character is a world, and I fell to the fans like me, by his nature, each of them different from the rest and not being mere copies of Ezio Auditore. Ubisoft put a lot of effort to make a memorable character for Assassin's Creed 3, but did not yield the key.
Connor is a character of few words, cold, but not flat. It has accused AC: 3 be a game focused on the War of Independence USA and not of the brotherhood of murderers. But this is a lie, Ratohnhakét: ton was so convinced the murderer creed he believed could keep defending this cause his people and bring freedom around the world, but he was wrong, and he realized it. For that reason, the friends end of Assassin's Creed 3 is sad. Viewed superficially could say no, he is happy, Connor helps patriots and, although they have their rifirafes solucinandolos end, and end up winning the war, the United States independent and free settlers. But if we focus more on the story, we see Connor with broken dreams; his people ended up being abandoned, slavery continued, freedom did not all alike, and the new American state was built in hypocrisy. The problem is in how the story is told and the way in which you reach the end. All work of empathizing with the Templars in the early game is made ​​overboard when Connor irrationally wished death against a Charles Lee who proved not to have been the author of the burning of his village. Yet the Lodge "is Templar after bad" was applied and started to fret that whole approach that reality is not black or white and, incidentally, killed his father. No option to agree with a man who just wanted to make the world a fairer place, as we could read in the fantastic adaptation of Oliver Bowden Assassin's Creed Forsaken.
As for the argument ... you will see ... ahem. Assassin's Creed has been characterized by developing their games in princiapales historical events: Renaissance, Crusades ... and make a background for the ancient war between Templars and murderers. But the problem is that, in previous games, had chosen times of great cultural changes developed over several centuries; new ways of thinking, to understand, to live with, plus characters who had a very important historical influence. While in AC: 3, has chosen an American Revolution that was a very specific event with some players who made also very specific things. Yes, there were major changes because of this, but it was not a great period in the history of mankind, but to the history of the United States. The second error is that, whereas in previous games the historical period was the background story where the characters are developed in AC: 3 the historical period is the cornerstone of the story, producing the effect called Forrest Gump, crossed with maopría of events that would happen. And third problem is the American Revolution itself, which is very boring which brings us to the next point.
Locations. Boston and New York or New York and Boston as they prefer, two very similar, bored, sad, cities without major sights, with hardly anything to do, Gray. No need to say anything more ...
However, the border itself that is an interesting place. Alas, in the end, ends resulting wasted, cities being the main focus of the story.
Well, as for the secondary characters, a lime and sand, while in the previous games enjoyed historical figures such as Richard the Lionheart, Rodrigo Borgia, Leonardo Da Vinci, Machiavelli, Suleiman, Copernicus ... In Assassin's Creed 3 "enjoyed" the company of Samuel Adams, Lafayatte, Paul Revere and Benjamin Franklin wasted. Yes, George Washington was missing, although not a bad character, no longer a political bored, somewhat unsafe, leading an army.
However, we also have Achilles Davenport, who was a pretty decent character like Faulkner, but fail to "fall in love" as did the characters from the previous games.
Aquila AC3 Homestead Bay And finally, the Intoduction of ships, "those pesky boats" for some fans, which for me were the greatest innovation of the series, and one of my favorite parts, missions with "Aquila" left me wanting more that's why I waited to win the release of the sequel to AC: 3.
Assassin's Creed 3, however it is a fun game, with a half decent story with some memorable character, some not, and that leaves tens of hours of gameplay.

Note: 9.

2 Assassin's Creed IV: Black Flag (aka AC: 3.2, "Assassin's Creed" 4 or the AC: the happy boats)
I've been to the last moment thinking the order of the last two games and even now, I have it not clear, but whatever. Let's start.
After the bad taste of AC: 3 saga had a test in its sequel. But, was Ubisoft was once remedy the current best video game series?
The approach was ambitious: to change the playable main focus of Ocean City. Convert a minigame were rated as good naval battle in the game in the main mechanical Connor. But this time Ubisoft gave themselves with the key and knew reinvent the series with a game rather than convincete.
The atmosphere was exciting: The Golden Age of Piracy, a turbulent, intense, interesting and mysterious era. A huge smallish map, three beautiful and different cities, though, and missed, but worth seeing. Small islands and coves are a visual pleasure, naval battles and raise the bar of what is seen above.
The secondary characters are another of the strengths of this title; Mary Read, Charles Vane, Jack "Calico" Rackham, Benjamin Hornigol, Black Bart ... and the famous Blackbeard (Edward Thatch, as it is called in the game, or Teach, Tich, Touch, or quisera actually called) . They all varied and interesting characters. If we add to Adewale, we deepen the best in their DLC, and antagonists such as Laureano de Torres y Ayala and Woodes Rogers, we have a section of the most interesting characters. The problem is that the story is not compelling enough it should have been, it is quite long, but it gives us the feeling that some characters have been slightly wasted: such as Rackham. In this barely moves, which is disappointing. And the protagonist, Edward Kenway, though fierce and carefree, do not get as much as they did fill Haytham, Ezio or Altaïr.
Many fans have questioned whether this game was just "Assassin's Creed" by name as Edward was only murderer in the end, and the presence of the war the Templars and murderers is testimonial. But I am opposed to this definition; AC above have focused on the management of a particular murderer and extermination of the Templars in a certain region, to end his dome in full, but this is repetitive. In this game the story focuses on how Edward goes from being a "loose cannon" to embrace the creed murderer, and all his ideological transformation witnessed in the game. Therefore, friends, it seems as Assassin's Creed as the rest, but, of course, up to AC: 1 and the Auditore trilogy, so people will arguably speaking disappointed.
However, the strongest point of this game is its jagabilidad. It is undoubtedly the game, more fun, more playable hours of side quests, with the huge map, with some of the most interesting side persoanjes and a variety of scenarios. That's the best game in the series, and one of the best of all time, but "Assassin's Creed" regular, so, for me, this, very slightly, behind AC: 2.

Note: 10 m.h.

1 Assassin's Creed II
What can I say about my favorite game of all time (next to God of War II, of course)?
After Assassin's Creed 1 was expected something more, Ubisoft knew refine the basic pillars of its predecessor to create one of the wonders of the previous generation: AC: 2. Let's start.
In the center of everything is a character that has left its mark in the history of fiction, Ezio.
Assassination of Auditore Immensely charismatic, Ezio truly transformed lives throughout the game, a spoiled young man who suffers a terrible tragedy that cries for vengeance, a murderer mature fighting for what really matters: justice. I could spend hours writing about this character, but I think the only way to know is playing each of their games.
Well, the location is sublime, the Italian Renaissance, leaving us the best locations to date: Florence, Venice, San Gimignano, Forli ... beautiful and perfectly recreated cities, the art section is impeccable and also the setting of the time is also well made.
As for history, it is undoubtedly the best in the series. Being the longest and with an intriguing plot and an unimaginable end. Yes I said before AC4 had one of the best casts of supporting characters, AC2 is even better. Historical figures such as Leonardo Da Vinci, Machiavelli and Lorenzo de Medici, the Pazzi antagonists as Rodrigo Borgia and Savonarola and other characters like Antonio de Magianis or Mario Auditore, put your bit in making a legendary history. The only unforgivable is that we sold sequences Battle of Forli and Bonfire of the Vanities DLC as this will never be forgiven. Luckily eventually rectified and made DLCs increasingly alienated from the main story.
Anyway, I've played this game recently and I've noticed that it has faults, some missions are very mechanical, facial movements are somewhat unrealistic and AI is horrible. But I still causes the same feeling that pimer day: excitement to be playing, not a video game, if not, to a work of art. Current games with much better graphics and mechanical, produce me, to play them for the first time, or one millionth of the sensations produced me AC2 any of the 17 times I've had.

Note: 10 m.h.