Userboxes

About me
So, I'm a girl. Yes, a girl gamer. Shock, horror.
I like to take friendships seriously- to the point of obsession. Because of that, please don't feel hurt if I decide to not become best buds with a random in a chatroom. I have made many friends here, but I won't give special treatment to anyone unless I've decided that they're trustworthy.
I became a fan of Assassin's Creed when I glanced into my brother's room and saw Altair suddenly jump off a building and land perfectly in a box of hay. From that moment on, I knew that I'd found something special. The moment I got my hands on the first game, I spent hours riding around, perfecting my skills at a simulated medieval world based on assassination. I had a blast, and was almost literally swept off my feet when I played Assassin's Creed II. It was so different to the first game, just as much story and mystery but with an added dose of epic music and action. The characters were awesome as well. Brotherhood... it's cool. I love the apprentices and how you can fight with them, but honestly, Ezio is getting kind of old. Literally. I hope Revelations will pick up the pace, even if Ezio is once again getting another game.
Favourite Assassin's Creed Characters
The Prowler
Giovanni Auditore
Altair Ibn La'Ahad
La Volpe
Leonardo Da Vinci
Pics of Characters I like~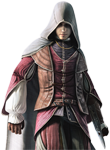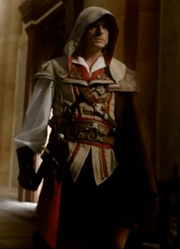 Community content is available under
CC-BY-SA
unless otherwise noted.