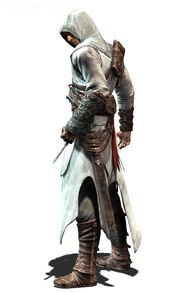 Aftyn! :D
I always looked at long-time fans of, say, Resident Evil (any game series, really, with a connected and compelling storyline) and thought it would be fun to have a series of my own like that: one where I could have played through each game a couple times and one where I could know quite a bit about the characters and the story and be really excited for the next installment to come out so I could find out "what happens next." In Assassin's Creed, I've found my series. (: I think one of the things that drew me in quickly was the idea of memory stored in DNA, which I recall learning about in my AP Psych. class in high school (which was, all hands down, my absolute favorite class). I'm excited to be a part of this Wiki to help expand the information. I know I've used other gaming Wiki's before, and they were very detailed and organized (and, therefore, very helpful!), so I aim to help when I can to make this Wiki just as useful for others. (: /sap
Page(s) I plan to concentrate on:
The Walkthrough for Assassin's Creed II
Elaborating on some of the achievement descriptions in the Assassin's Creed II Achievements page.
Coming soon?
Regarding Editing:
These pages should have a professional and helpful feel. They shouldn't look like they were created by someone who can't speak English well, or by someone who happens to be a 6th grader. To that end, these things are EXTREMELY important:
Grammar
Punctuation
Spelling (if you're not positive on the spelling of some word, take 15 seconds and hit up dictionary.com to see if your thinking is correct)
No using "I!" That and several other word-choice guidelines are laid out in the style page.

I think it's wonderful to have a community where everyone shares a common interest, but this is more than just a casual forum. I don't think applying the rules of English to these articles is really that hard, do you? (:

My sandbox.
Community content is available under
CC-BY-SA
unless otherwise noted.