New Pokemon Games - The Loop
Play Sound
Unwelcome was a virtual representation of one of Eivor Varinsdottir's genetic memories, relived by Layla Hassan through the Portable Animus HR-8.5.
Description
The Raven Clan discovered the abandoned Ragnarsson's settlement, which had been occupied by Saxon bandits.
Dialogue
Sigurd, Eivor, and Dag made their way toward the settlement from the dock. They came upon a group of Saxon men talking and laughing amongst themselves. One of the men spotted them and all went quiet.
Saxon Bandit 1: Oi, what's this? A mess of filthy Danes befouling our riverways?
Saxon Bandit 2: You there. Give us your name.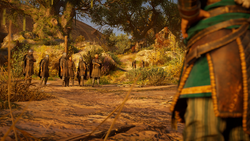 Saxon Bandit 2: Men who do not take kindly to Dane invaders creeping into our camp. You'd best move along, pagan. Spare yourselves a slaughter.
Sigurd drew his axe and shared a grin with Dag.
Dag: I have been eight days at sea without a drop of blood to whet my axe. So spare the chatter, bacraut (asshole), and draw your weapon.
The bandits gave a battle cry and attacked. The rest of the longship crew flooded in to help.
Sigurd: Let's finish them.
Anglo-Saxon Soldier: Kill these heathen bastards!
Sigurd: You had your chance to turn away! And it passed you by!
Dag: Like a blade through butter!
The last bandit was killed.
Sigurd: Have a look around, all of you. I want no more surprises.
Eivor: Right. I will check the longhouse.
The Raven Clan searched the settlement.
Dag: Thought I would find at least one of those fools squirreled away somewhere.
Norse Warrior: These folks know nothing of tending to their weapons. Careless fools.
Eivor approached the longhouse where she found Sigurd standing outside. Across the entrance were strings of bone.
Sigurd: Eivor... look at this.
Eivor: A noise trap. Might be something inside. I will have a look.
Eivor entered the longhouse and found a man and a woman inside, bound and kneeling on the ground.
Yanli: W-wait, who are you? Are you with those brigands as well?
Eivor: Sigurd! Dag! In here! Those men had prisoners.
Eivor approached the captives.
Yanli: You there, untie us! Let us walk and we will not hurt you!
Eivor: Quite bold in those bindings. I like your spirit.
Rowan: We are very agreeable people, I promise! You need not kill us.
Sigurd and Dag entered.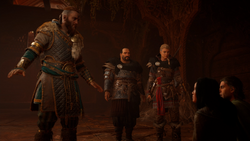 Sigurd: Peace, friend. We have no need or wish to hurt you. What are your names?
Sigurd knelt before the prisoners, and the woman's glare softened.
Yanli: Yanli. I'm a merchant, not a bandit like those others. And this is Rowan.
Rowan: R-Rowan, that's right. I'm a stable hand, that's all. I keep horses and... well, I did. 'Til those brigands sold them off.
Yanli: They meant to sell us next, as slaves to the nearest bidder. But I'd rip their eyes out before I let that happen.
Sigurd and Dag both smile at her spirit.
Sigurd: And how did you find yourselves here?
Yanli: We came to trade with the Sons of Ragnar, at Halfdan Jarl

'

s asking. But they were gone when we arrived.
Sigurd stood.
Eivor and Dag stepped forward to cut Yanli and Rowan's bindings.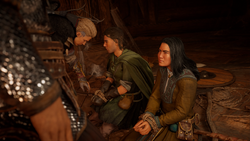 Sigurd: You know the Sons of Ragnar?
Rowan: Aye. Sold many a mare and stallion to the brothers. Good men, always paid me fair.
Sigurd: From the look of this camp they've been away for some time. Where will you go now? What will you do?
Yanli: Rebuild my stocks. Start anew. I have friends and allies across the land to aid me but... it won't be easy.
Rowan: Every town and village needs a stable. To keep horses fit and trim. I'll find my footing again. Somewhere.
Eivor and Sigurd shared a silent look and nodded. Dag looked between them in confusion.
Dag: What are you thinking?
Eivor: That we could use their skills as we get settled. Having access to trade and someone to tend our mounts would be a boon.
Sigurd: My thoughts as well. Any friend of the Ragnarssons is a friend of mine. Right, Dag?
Dag: Whatever you think is best, Sigurd.
Sigurd approached the newly freed captives.
Sigurd: Yanli, Rowan... I am Sigurd Jarl of Fornburg, son of Styrbjorn. This is Eivor... and Dag. Both of you are free to go, but more than welcome to stay, if you are willing to pull your weight.
Yanli: We'd be happy to. If only to get back on our feet.
They all clasped arms in agreement.
Sigurd: Then let it be done. The Raven Clan welcomes you.
Yanli and Rowan looked at each other and left the longhouse, while Sigurd, Eivor, and Dag watched them go.
Sigurd: From strangers into friends into family.
A horn blew in the distance.
Sigurd: The others have arrived. Come.
They went to greet the rest of their clan at the docks.
Eivor: I have a good feeling about this place.
Sigurd: Honored family, friends... welcome to your new home!
The Raven Clan arrived in their longships and began refurbishing the place, fixing up the buildings, repairing their ships, and setting up simple structures to be improved on in time. Randvi disembarked from a ship carrying an armful of scrolls and made her way to the longhouse, passing Rowan as he lead a horse to the stables. As the Raven Clan cleaned away debris and fixed up the longhouse, Randvi found a table under a patch of sun filtering in from a hole in the roof and laid out a map of the region. Some sawdust fell from above, and Randvi smiled as she looked up through the hole to see Eivor patching the roof. From her position, Eivor waved with her hammer and smiled back, before looking over the growing settlement as Sýnin flew overhead and cawed.
Outcome
The Raven Clan defeated the Saxon bandits, claiming the settlement for themselves to start anew.
Gallery
References
Assassin's Creed: Valhalla memories