Where are the paintings?


This article is in need of more images and/or better quality pictures in order to achieve a higher status. You can help the Assassin's Creed Wiki by uploading better images on this page.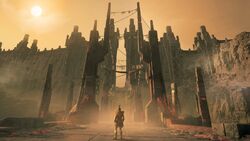 The Underworld was an Isu settlement ruled by Hades, later characterised in Greek mythology as one of its afterlives. It was sometimes referred to as Hades after its patron god, and was one of the Sister Realms alongside Atlantis and Elysium.
History
During the Peloponnesian War, the Isu Aletheia created a simulation of the Underworld for the misthios Kassandra to complete as part of her trials to master the Staff of Hermes Trismegistus. Within the simulation, Kassandra arrived at the Underworld after being thrown down the entrance to it by Persephone.[1] Upon arriving to the Underworld proper, Kassandra was accosted by Cerberos. After defeating the three-headed guard dog in combat, Kassandra came face to face with Hades, who demanded that she find four guardians to replace Cerberos.[2]
Years later, the Assassin Layla Hassan would relive Kassandra's genetic memories of the Simulations, herself guided by Aletheia.[3]
Geography
The underworld was divided into four regions; the Chasm of Torment, Mourning Fields, the Path to the Underworld, and the Scorched Lands. The realm also housed the prison Tartaros which held the worst criminals to have died.[4]
Notable was also the river Styx which ran through the realm, though it was rumored to originate in Arkadia.[5]
Appearances
References
Community content is available under
CC-BY-SA
unless otherwise noted.