This article is about cavern in Makedonia. You may be looking for similarly named cavern in Attika.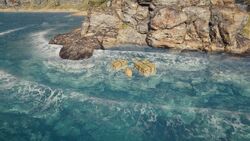 Underwater Cavern was half-submerged cavern located at the shore of Triple Peninsula of Chalkidike in Makedonia, Greece. Though one of its entrances was by the water's edge, there was another, east of the town of Potidaia.
The Spartan misthios Kassandra explored the location during the Peloponnesian War, finding the place to be inhabited by bandits, and finding the Minotaur's Revenge-sail and finery for the ship Adrestia.[1]
Gallery
Appearances
References
Community content is available under
CC-BY-SA
unless otherwise noted.