m

Line 20:
Line 20:
 

*[[Poseidon]] - God of the sea

 

*[[Poseidon]] - God of the sea

 

*[[Jupiter|Zeus]] - King of the gods, god of thunderstorms, divine law and justice

 

*[[Jupiter|Zeus]] - King of the gods, god of thunderstorms, divine law and justice

 
+
 
+

==Legacy==

 
+

The botanist {{Wiki|Carl Linnaeus}} named a {{Wiki|Dodecatheon|genus}} of plants, which includes the [[Database: American Cowslip|American Cowslip]], after the Twelve Gods.

 
 
 

==Gallery==

 

==Gallery==
---
Revision as of 12:16, 18 January 2019


We do this together or not at all.


It has been proposed that this page be merged with Greek mythology, under the article: Greek mythology. Discussion to this effect can be held on the former article's talk page.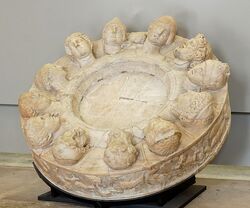 The Twelve Gods was a collective term referring to the twelve major deities of the Greek pantheon. They were also referred to as Dii consentes within the Roman pantheon.[1]
During the Peloponnesian War Athens housed an open-air shrine dedicated to the group.[2]
Members
Legacy
The botanist Carl Linnaeus named a genus of plants, which includes the American Cowslip, after the Twelve Gods.
Gallery
Appearance
Reference
Community content is available under
CC-BY-SA
unless otherwise noted.