We do this together or not at all.


It has been proposed that this page be merged with Greek mythology, under the article: Greek mythology. Discussion to this effect can be held on the former article's talk page.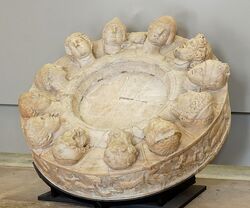 The Twelve Gods was a collective term referring to the twelve major deities of the Greek pantheon. They were also referred to as Dii consentes within the Roman pantheon.[1]
During the Peloponnesian War Athens housed an open-air shrine dedicated to the group.[2]
Members
Gallery
Appearance
Reference