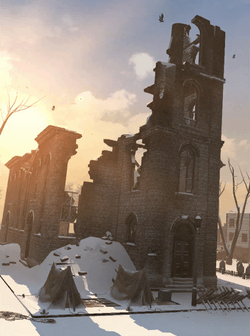 Trinity Church is an Episcopalian church located in Lower Manhattan in New York, at the intersection of Wall Street and Broadway.
History
Trinity Church was built with the help of famous privateer William Kidd, who provided equipment from his own ship to ensure its construction was completed. After it had been, Kidd even had a pew reserved for him, though he wound up never using it. The church had numerous branches in St. Paul's Chapel, Trinity School and King's College.[1]
The church was destroyed during the Great Fire of New York in 1776, and the ruins were guarded by the British Army. Haytham Kenway and his son Connor climbed the tower to eavesdrop on troop movements, but Haytham hastily attacked the platoon so he could interrogate the commanding officers, and learned the British planned to march from Philadelphia to New York.[2]
Reconstruction began in 1788, five years after the American Revolutionary War. Trinity Church still stands today, and was the largest building in the city at the time it was completed in 1846; it can be sought out at the corner of what is now Wall Street.[1]
Appearances
References
Community content is available under
CC-BY-SA
unless otherwise noted.