This article is about trident used in ancient Greece. You may be looking for tridents in general.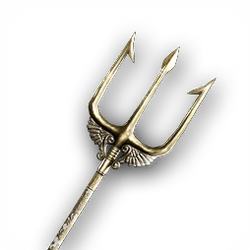 The Trident was a spear found in Greece during the 5th century BCE. Like most tridents, it was three-pronged.
During the Peloponnesian War, the Spartan misthios Kassandra found this X in the inventories of blacksmiths and looted it from bodies and chests during her travels throughout Greece.[1]
Weapon statistics
Rarity
DPS (Lvl 99)
Default Engravings
Availability
Epic
7829
(Randomised)
Blacksmith, Loot
Description
This trident is both an effective weapon and a good skewer for roasting fish over a fire.
Behind the scenes
The Trident, a weapon in Assassin's Creed: Odyssey, shares the same model as a number of other similar weapons in the same game, including the Master of Waters and Galloudrix's Trident of Unity, two other weapons in the same game. They are all recycled from Neptune's Grasp, a weapon in Assassin's Creed: Origins.
Appearances
References
Community content is available under
CC-BY-SA
unless otherwise noted.