Fire Emblem Warriors: Three Hopes - The Loop
Play Sound
This article is about the memory. You may be looking for the civilians.
Town Crier was a virtual representation of one of Ezio Auditore's genetic memories, relived by Desmond Miles in 2012 through the Animus.
Description
In his hunt for the Pazzi conspirators, Ezio Auditore requested the aid of his uncle Mario. Shortly thereafter, one of Mario's mercenaries located the conspirator, Antonio Maffei, who had taken refuge on top of the tallest structure in San Gimignano.
Dialogue
Ezio met Gambalto, one of Mario's mercenaries waiting outside the Santa Maria Assunta.
Gambalto: Salute Ezio! (Hail!) Antonio Maffei has sought refuge atop the city's tallest structure – spouting scripture and arrows in equal measure. The man has clearly lost his mind.
Making matters worse, he's posted archers all around him. You'd do well to clear them out before approaching.
Ezio: Grazie for the information.
Ezio proceeded to the tower and found it guarded. He carefully killed all the guards in the surrounding tower and advanced to where Antonio had barricaded himself.
Antonio: Citizens of San Gimignano, heed well my words! You must repent! Repent and seek forgiveness! For your wicked ways have incurred the wrath of a demon! Summoned by your sins, he now walks our world, cloaked in shadow and darkness! And everywhere he treads, DEATH FOLLOWS! Why you ask? Because you have strayed and sacrificed your liberty to that wretch Lorenzo de' Medici.
You are puppets, enslaved by purse strings! Won over by poisonous words! You have lost your virtue. You have lost your dignity. You have lost your faith! And this draws the demon in to feed. And feed they will. All whilst you wander lost in ignorance. Know that good men have died protecting you from evils. Men who sought to save these lands, to purify them!
Join me in prayer, my children so that together we might stand against this darkness!
Give ear, O heaven, and I will speak; and hear, O earth, the words of my mouth. Let my teachings drop as the rain. My speech distill as the dew. As raindrops on the tender herb, and as showers on the grass. For I proclaim the name of the Lord; ascribe greatness to our God. He is the rock, His work is perfect; for all His ways are justice, a God of truth and without injustice; righteous and upright is He.
They have corrupted themselves; they are not His children, because of their blemish: a perverse and crooked generation. Do you thus deal with LORD, O foolish and unwise people? Is He not your Father, who bought you? Has He not made you and established you?
Antonio noticed Ezio, as he approached.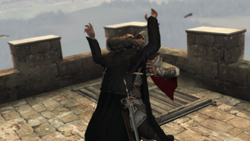 Antonio: By the light of the LORD, be cleansed!
Ezio: No grazie! (No thanks!)
Antonio: I will put you on your knees, sinner!
Ezio: You would enjoy that, wouldn't you?
Antonio: Beg forgiveness!
Ezio: I have no need to!
Antonio: Give me strength, O Lord – that I might cast out this demon!
It is not too late for you to turn away from evil!
Repent, sinner! You may yet be forgiven!
I do God's work! And it is good!
Ezio killed Antonio.
Antonio: Away with you, demon!
Ezio: Have some respect for death, my friend.
Antonio: I'll show you respect! –
Ezio: No. I will.
Che tu possa alfine trovare riposo nel corpo e nella mente. (May your body and mind at last be still.) Requiescat in Pace. (Rest in peace.)
Outcome
Ezio assassinated Antonio Maffei and retrieved a letter addressed to Rodrigo Borgia, as well as one from Jacopo de' Pazzi addressed to Maffei himself.
Trivia
The prayer that Maffei recites is an excerpt from the Song of Moses, specifically Deuteronomy 32:1–6, as written in the New King James Version of the Bible. According to scriptures, this poem was written and spoken by Moses to the Hebrews just before his death.
Gallery
References