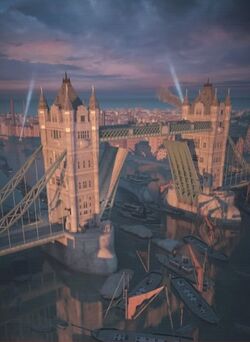 Tower Bridge is a combined bascule and suspension bridge in central London. Built in 1886, the bridge crosses the River Thames close to the Tower of London.
History
The bridge was constructed in 1886, its name earned due to its close proximity to the Tower of London. Completed in 1894, the bridge required a monumental engineering effort, not least in the creation of the hydraulic system used to operate the bascules. The upper walkway was seldom used and became a haunt for criminals and prostitutes, leading to its closure in 1910 [1]
During World War I, anti-aircraft guns were installed to protect the city from German zeppelins.[1] In 1916, the bridge served as an impromptu base of operations for a German spy ring led by the Templar Master Spy. The base was cleared out by the Assassin Lydia Frye, before being occupied by Winston Churchill.[2]
In 1976, the bridge's huge pumping engines were driven by steam were replaced by an electrical system.[1]
Trivia
Tower Bridge is depicted in its familiar Blue / White / Red painting scheme; however, the bridge was only painted those colours in 1977 to celebrate the Queen's Jubilee. Since its construction, it had been a chocolate brown colour, which is how it should appear in 1916.
Appearances
References
↑ Assassin's Creed: Syndicate
Community content is available under
CC-BY-SA
unless otherwise noted.