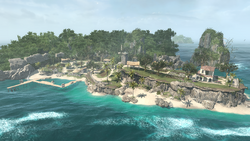 Tortuga is an island in the Caribbean, north of Hispaniola. During the early 18th century, it was the site of a sizable sugar plantation owned by the Beckford Estate.
History
In 1492,[1] the island was first spotted by Christopher Columbus, who named it because of its tortoise-like shape on the horizon.[2]
Sometime during the 1710s it was raided by the pirate Edward Kenway, who claimed the contents of its warehouse. Later, the island's manor was used as a base by the head of a brutal slave trafficking network, until Kenway eliminated him as part of an assassination contract.[3] Two decades later, in the mid-1730s, the plantation was raided once again, this time by Adéwalé, an Assassin and Kenway's former quartermaster, who had come to free the plantation's slaves.[4]
Gallery
Appearances
References
Community content is available under
CC-BY-SA
unless otherwise noted.