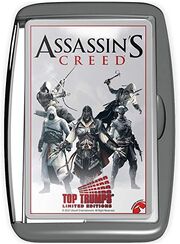 Top Trumps: Assassin's Creed was an edition of the Top Trumps card game based on the Assassin's Creed series.
Description
One of the most beloved series of the last decade is now immortalised in a special Top Trumps pack. Find out if Ezio Auditore, Desmond Miles or Haytham E. Kenway has the most influence or if Arno Victor Dorian or Evie Frye is the most tactical. Be a part of the centuries-old struggle against the Assassins and the Templars!
Entertaining educational card game loved for bringing your favourite Assassin's Creed characters to life
Play Top Trumps anytime, anywhere, with as many people as you like
Find out if Leonardo da Vinci or Jacob Frye has the most stamina or if Lucy Stillman or Al Mualim has the highest Top Trumps rating
Easy-to-carry plastic case means there are no limits on gameplay
Prepare to outsmart your opponents, discover new and exciting Assassin's Creed facts and duel your way to becoming the Top Trump[1]
Characters
This list is incomplete. You can help the Assassin's Creed Wiki by expanding it.
References
External links