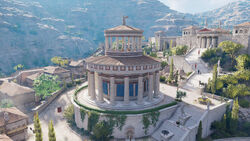 The Tomb of Battos was a tomb located in the Greek city of Cyrene. It served as the final resting place of Battus I of Cyrene, the founder of the city as well as the whole colony of Cyrenaica.
History
When Kyrenaika became a Roman province in the 1st century BCE, the tomb was neglected and it fell into disarray. In 47 BCE, two of the artifacts in the tomb, a bow and a medallion which had once belonged to Battus were stolen by Cassius Albus, a Roman centurion who carried the medallion and hid the bow in the Roman Akropolis behind the tomb.
To cover up the theft, Cassius Albus had the tomb closed, leading to protests by the Greeks. The priest Iakchos attempted to deter the crowd and enlisted the help of the Medjay Bayek of Siwa to investigate. Tracking the thieves to the Akropolis, Bayek eventually recovered the artifacts, giving the medallion to Iakchos and keeping the bow for himself.[1]
Around the same time, Bayek also found one of the Papyrus Puzzles within the tomb.[2]
Gallery
Appearances
References
Community content is available under
CC-BY-SA
unless otherwise noted.