He who increaseth knowledge, increaseth sorrow.


This article contains spoilers, meaning it has information and facts concerning recent or upcoming releases from the Assassin's Creed series. If you do not want to know about these events, it is recommended to read on with caution, or not at all.

This template should be removed from the article 12 November 2021.
To Francia was a virtual representation of one of Eivor Varinsdottir's genetic memories, relived by Layla Hassan through the Portable Animus HR-8.5.
Description
Eivor met with Pierre to discuss travelling to Francia.
Dialogue
After waking up from the feast, Eivor went to talk with Pierre at the guesthouse. Eivor found Toka drunk outside her guesthouse.
Toka: Wolf-Kissed! I hope your head does not ache like mine. What a night. But we should leave for Francia soon.
Eivor saw and talked with Pierre inside the guesthouse.
Eivor: Pierre.
Pierre: Ready to leave for Francia when you are.
(Yes − I'm ready to travel to Francia)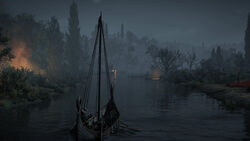 Time passed as Eivor, Toka, and Pierre left and arrived in Francia on Eivor's longship. Eivor noticed and remarked on the land.
Sýnin flew above Eivor's longship.
Eivor: I must stop this mad king from sending war across the sea. Already his armies assemble, and crows gather again over Paris.
Outcome
Eivor travelled to Francia with Toka Sinricsdottir and Pierre.
References