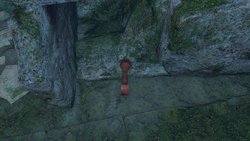 Tiye (1398 BCE – 1338 BCE) was the queen and wife of the pharaoh Amenhotep III. She was also the mother to Akhenaten and grandmother to Tutankhamun, both of whom reigned as pharaohs during the Amarna Period.
Around 38 BCE, the Hidden One Bayek of Siwa found a statue in her image in the sanctuary of Akhenaten, below the Temple of Karnak.[1]
Appearances
References
Community content is available under
CC-BY-SA
unless otherwise noted.