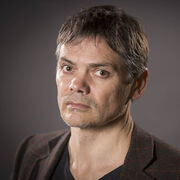 Timothy Watson
is a British actor best known for his role as Rob Titchener in BBC Radio 4's long-running soap opera
The Archers
. His
Assassin's Creed
works markably is providing the voice for
Hervé Quemar
in 
Unity
. He also provides the voices of civlians in several works of the
Assassin's Creed
series. 
Biography
Watson was born in Berkshire, England but grew up in Hertfordshire. He studied at the Central School of Speech and Drama in London from the age of 17.
Best known for his portrayal of Rob Titchener in BBC Radio 4's soap opera The Archers, he has also played the role of the Maitre d' of the Palm Court Restaurant, Mr Perez, in Mr Selfridge. Watson voiced the characters of both James Bond and Auric Goldfinger in the 2012 video game 007 Legends based on the James Bond books. Watson also voiced the character, Metal Face in the video game, Xenoblade Chronicles. Watson appeared in the National Theatre's production of The Beaux' Stratagem.
In June 2008, Watson starred with Honeysuckle Weeks in the BBC Radio 4 drama The Incomparable Witness, about the case of murderer Dr Crippen.
In 2015, the audience at the Radio Times Festival greeted Watson by booing in response to the plotline involving his character Rob Titchener in The Archers. He later told The Observer´s Vanessa Thorpe, "I have now removed all social media from my house because some of the things people said were quite awful. […] The strength of feeling took me by surprise. And then it starts to impact on your own personal life. I would rather not see it."
In February 2017, Watson participated in live interviews to answer BBC Radio 4 listeners' questions about his experience of acting in The Archers.
The following year, in a series of Halloween-themed radio adaptations for BBC Radio 4's 15 Minute Drama programme based on the second book in the Pan Book of Horror Stories series, Watson played the part of Sbirro in Stanley Ellin's short story The Speciality of the House and the title character in Carl Stephenson's Leiningen Versus the Ants. 
Assassin's Creed works
References 
Community content is available under
CC-BY-SA
unless otherwise noted.