New Pokemon Games - The Loop
Play Sound
Thousand-Pound Idea was a virtual representation of one of Ratonhnhaké:ton's genetic memories, relived by Desmond Miles in 2012 through the Animus.
Description
Lance O'Donnell asked Connor to retrieve some of his plans from New York.
Dialogue
Lance: Hey, Connor.
A word, Connor?
Do you have business in New York on occasion? I only ask because I ordered a package from France and it's long overdue. I've written the post master and he's yet to respond. I thought you could inquire if you had the chance.
Connor: I will pass by the next time I am there.
Connor traveled to New York.
Connor: I've come to inquire on a package arriving from France on behalf of Lance O'Donnell.
Post master: Was picked up and signed for by his apprentice a couple days back. Patrick O'Hara.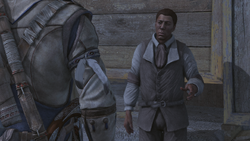 Connor: Patrick O'Hara is Mister O'Donnell's former apprentice. Would you happen to know where he is?
Post master: Sure- he's been hanging around the docks the last few days. Should be round the way.
Connor located O'Hara with some of the latter's accomplices.
Patrick: Here! Take these pages and hide them! Don't let that guy get his hands on 'em!
Connor managed to retrieve the papers from the men, after which he returned to Lance.
Connor: I have your plans. What are they for?
Lance: You got them!? This, Connor, is the design for a chair that FOLDS. Genius. You won't regret this!
Outcome
Connor delivered Lance's plans to him, following which Lance began work on his invention.
Gallery
References