He who increaseth knowledge, increaseth sorrow.


This article contains spoilers, meaning it has information and facts concerning recent or upcoming releases from the Assassin's Creed series. If you do not want to know about these events, it is recommended to read on with caution, or not at all.

This template should be removed from the article three months after release.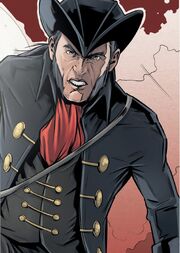 Tom Stoddard was a 17th century Assassin active during the Salem witch trials, and an ancestor of Charlotte de la Cruz.[1]
In June 1692, Tom witnessed the hanging of Bridget Bishop, the first person executed for witchcraft during the Salem witch trials. He was also an excellent freerunner.[2]
Stoddard was cold and tough, keeping his emotions to himself. Although he was a strong believer of the Creed, he was not one to abandon a mission in order to help someone in need.[3]
Gallery
References