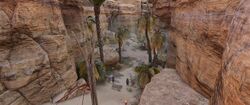 Theos Elpis Rift was a location in the Isolated Desert, Egypt. During the 5th century BCE, the local Egyptian rebels had set up a camp there.
Around 48 BCE, the Medjay Bayek of Siwa passed through the place while looking for two missing children, Istellah and Hetanu, from another rebel camp, Remetch Ra. He found the base under attack by the forces of Ptolemy XIII, and helped the rebels to repel the attack.[1]
Appearances
References
Community content is available under
CC-BY-SA
unless otherwise noted.