The Wedding was a virtual representation of one of Ratonhnhaké:ton's genetic memories, relived by Desmond Miles in 2012 through the Animus.
Description
The Davenport Homestead prepared for the wedding of Norris and Myriam.
Dialogue
Myriam: Need someone like you to help me.
Norris ran up to Connor from behind. Not knowing who it was, Connor wrestled him to the ground.
Norris: My friend!
Connor: Norris! What are you doing?
Norris: She said yes!
Connor: Myriam?
Norris: We are getting married!
Myriam: I told you not to touch him, Norris!
Connor: Is it true?
Myriam: Yes!
Connor: Ha ha!
Timothy: So now that you've been told, might I have a word? We have MUCH work to do!
Connor: Of course! What would you have me do?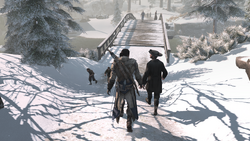 Timothy: Accompany me to the inn, I have business there. Norris is a stickler when it comes to tradition. Myriam knows not where her father is and they were hopeful that you might act his part at the ceremony.
Connor: I am not familiar with colonial wedding customs.
Timothy: It means you will walk with her during the ceremony and give her to Norris as her father would.
Connor: I would be honored.
Timothy: Wonderful. On to other business! Our weddings are complex beasts and require many hands working together to execute. We'll need Warren and Prudence to provide food, Ellen to make the appropriate clothes, Big Dave to smith wedding bands, me to conduct the service and Oliver and Corrine to host a banquet.
Connor: That IS a lot.
Timothy: We'll start here.
A few days later, Connor found Norris in the manor.
Norris: Connor.
Connor: Everything seems to be in order for the big day!
Norris: It is. Except I can't find Myriam.
Connor: I am certain she is making sure all is perfect. I will find her, my friend.
Connor analyzed the clues in Myriam's room and then began to follow her trail.
Sailor: Don't think she wants to marry you, mate!
Connor caught sight of Myriam as she free-ran through the trees.
Myriam: Leave me be!
Connor: Why do you run?
Myriam: Leave me be! I'm no house wife!
Connor: Nobody thinks you are one!
Myriam: That's what all this means!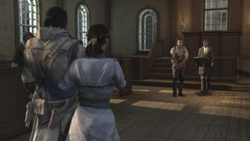 Connor caught up to Myriam and convinced her to return with him. The scene then changed to the wedding's end.
Timothy: You may kiss your bride.
After the wedding, the Homesteaders retired to the Mile's End for the reception. There, Connor spoke with two groups separately, the first consisting of Ellen and Big Dave.
Ellen: Hello, Connor. Enjoying yourself?
Connor: I am. It is nice to see everyone together and happy.
David: Look at those two kids, it's a lovely sight. Norris is one of my best friends and he couldn't have found a better woman. Proud of him.
Ellen: Sometimes people are just right for one another. Norris and Myriam are a match made in heaven.
David: Or a match made by Connor, isn't that right?
Connor: I only helped Norris muster his courage. The rest came naturally.
Connor then spoke to the second group, made up of Godfrey, Terry, Diana and Catherine.
Godfrey: ...and my little brother Joseph tossed him in the river!
Diana: Connor! We were just recalling our weddings.
Connor: Spirited events, I take it.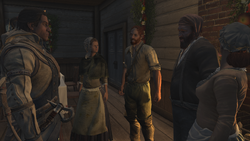 Catherine: Spirited? More like brawls than unions, they were! Ha ha.
Terry: Calling Jo "little" is like calling me Big Terry – boy's a bloody mountain!
Godfrey: My younger brother had a blow-up with one of Terry's cousins. A minor disagreement about some lass' dance card. I'll just say Terry's cousin sobered up right quick when it was over!
Diana: Poor boy! Sittin' there sopping wet on a stump while Joseph spun 'round with the object of his affection.
Terry: Ha ha ha. Was good for him! Taught him good things don't come easy!
After a while, Ellen spoke to the community.
Ellen: Excuse me, everyone. Thank you, I won't keep you long. I would like to present something to Connor and you all. I once said I'd find a way to show my gratitude for your courageous actions in my defense and this is what I give you today.
Ellen unfolded the Homestead flag.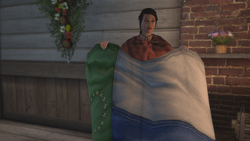 Ellen: This flag is a symbol of our strength and unity and I would hope you'd all be proud to fly it high above your homes and shops. I'll happily make one for each and every one of you if you so desire but this one is for you, Connor.
Ellen handed the folded-up flag to Connor.
As Connor raised the flag proudly above his head, the rest of the residents clapped in applause.
Outcome
Despite a moment of hesistation, Norris and Myriam were married, much to the celebration of the other Homestead residents.
Trivia
Gallery
References