The Ringer was a virtual representation of one of Ezio Auditore's genetic memories, relived by Desmond Miles in 2012 through the Animus 2.01.
Description
Ezio came across a merchant whose stand had been broken. Upon questioning him, Ezio found out that the man won against Donato Mancini, one of the Borgia's agents, in the horse races, and now he feared that Donato intended to kill him. Ezio then set off to kill Donato.
Dialogue
Ezio came across a man who was examining a broken stand.
Ezio: This was your stand?
Rocco: Sì. Everything has been broken.
Ezio: Who did this?
Rocco: Donato Mancini. I rode against his horse in the races and made the mistake of winning. You though, everyone is talking about you. How you fight against the Borgia's men. Donato has demanded I meet him alone. I fear he intends to kill me.
Ezio: Where can I find him?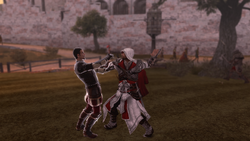 Rocco: Grazie a dio (Thank god). He is waiting at the Circo Massimo. That's where they hold their private races.
Ezio made his way to the Circo Massimo.
Donato: Where is Rocco?
No one keeps me waiting!
You are dead Rocco, you hear me!
Ezio assassinated Donato.
Ezio: Requiescat in Pace (Rest in peace).
Outcome
Ezio succeeded in killing one of the Borgia Templar agents.
Gallery
References