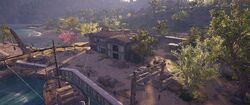 The Monger's Warehouse was a warehouse located in the Port of Lechaion in Korinth, Greece, which belonged to The Monger, a mob boss and a member of the Peloponnesian League branch of the Cult of Kosmos.
During the Peloponnesian War, the Spartan misthios infiltrated the warehouse, freeing the captives within and burning down the place at the request of Anthousa, the leader of the hetaerae in Korinth. When the Monger's men attacked her, Brasidas, a Spartan officer sent to Korinth by his king, came to her aid.[1]
Trivia
In the novel the Monger is killed in his warehouse by Kassandra and Brasidas with the help of Roxana and Erinna, two of Anthousa's hetaerae who had been captured. His remains were then displayed publicly by Kassandra and Anthousa at the theater against Brasidas' wishes.[2]
After completing the Port of Lawlessness memory, the guards of the warehouse will automatically change to that of the current faction ruling the region, the Spartans or the Athenians.
Appearances
References
Community content is available under
CC-BY-SA
unless otherwise noted.