GTA: The Criminal Enterprises - The Loop
Play Sound
The Huntress was a virtual representation of one of Eivor Varinsdottir's genetic memories, relived by Layla Hassan through the Portable Animus HR-8.5.
Description
Eivor met with Petra after helping her and Wallace construct a new home.
Dialogue
Wallace: Thank you for this. Whether fur, meat, or bone, we will provide only the finest.
Petra: And if you intend to go hunting... consider bringing us your kills. We will prepare the hides and heads.
Wallace: Aye. I've been mounting Petra's trophies for years. And she's a discerning woman.
Petra: In all things.
Eivor: I'll keep that in mind. Enjoy your new home.
Petra: Eivor. You seem to be someone with a penchant for... trophies.
Eivor: I do like victories, but I rarely keep a record of them.
Petra: Your weapons show the marks of great battles. And you walk with a pride that speaks to your triumphs. Am I wrong?
Eivor: You are not. Why do you ask?
Petra: To bolster our trade, of course. Wallace is the finest tanner and taxidermist in all of England. If you wish the tales of your hunts to outlast you, there is no better way than making trophies of your kills. If you defeat a rare and worthy creature, bring it to us. We will display it for you.
Eivor: A good idea. Keepsakes to adorn the longhouse. Thank you, Petra.
Petra: O, and before you go, could you spare a moment? For a small favor.
Eivor: Go ahead.
Petra: For the past few evenings, I have heard the howling of a pack of wolves just beyond the border of our woods. Unchecked, they will ravage the wild game in this area. And once the deer are dead, they may turn to us.
Eivor: You feel we should drive them off?
Petra: I would elimate them entirely. With your permission, of course. And your help, if possible.
Eivor: A good idea. I will join you now.
Petra: Good. A pack of wolves is a foolish thing to underestimate. Let's go.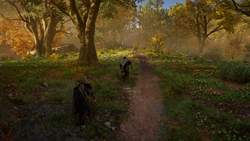 Eivor followed Petra.
Petra: This way. I last saw them prowling around just up the hill.
Eivor: You lead, I'll follow.
Petra: Our settlement is in quite a nice spot. Beautiful terrain. And the animals here are healthy and populous. But wolves are a worry. It may be why the Ragnarssons moved on. Humans upset the balance of nature, and nature pushed back.
Eivor: By attacking us?
Petra: A wolf will do whatever it takes. They were displaced, now they come to our door.
Petra noticed something in the distance.
They came upon food left by wolves.
Petra: Look here. Bread crumbs and crusts. They must have stolen something from Tarben's store. Or off a table somewhere.
Eivor: You saw breadcrumbs from where you stood?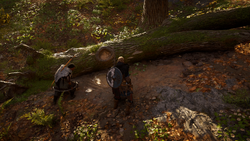 'Petra: They stand out clearly from the soil and grass. See there? Come this way. Ah. Smell that? That's a male wolf, marking his territory, warding off the competition.
Eivor: How do you know it's a male?
Petra: Different odor. You pick it up.
The duo continued tracking the wolves.
Eivor: How did you come to be such a skilled tracker?
Petra: My family were hunters and trackers. From further east than you have ever seen, I imagine. But I've lived in England for most of my life. This is where we found Wallace.
Eivor: You two are siblings as Sigurd and I are siblings. Bound by honor, not blood.
Petra: Yes. To hear my mother tell it, we came upon Wallace abandoned... a babe in the woods. We took him in.
They came upon a puddle of blood.
Petra: Look. The wolves made a kill here. They're in the area. Those trails... they must have dragged the poor beast away. We're getting closer.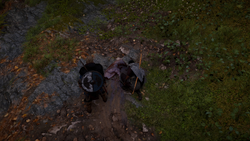 They followed a drag mark on the ground until they came upon a carcass.
Petra: Ah! See those teeth marks on the carcass? They're different.
Eivor: This is the pack's doing. Not just one.
Petra: That's right. Let's go on.
They continued tracking.
Eivor: So your family found Wallace in the woods?
Petra: We were traveling through the forest when I spotted a white elk ahead of us. I chased it, hoping to take it down. I lost it as I came to a clearing, and there on the ground... was a wee babe. Our little Wallace. Swaddled and alone.
They came upon a clearing.
Petra: Ah! Look at that. The pattern on the grass. They slept here.
Eivor: I am impressed, Petra. You have a raw skill.
Petra: You have seen nothing just yet.
Eivor: So you saw a white elk... and that led you to Wallace?
Petra: That's right. It felt fated. We took him in and nursed him back to health. I was scarcely more than a toddler myself, then. And from that day forward, we were raised as brother and sister.
They came upon several dead animals.
Petra: Hmm... these kills are fresh. They're likely near enough to hear us. Probably fled the scene not long ago.
A man comes running towards them.
Anglo-Saxon Man: Ah! Help!
Eivor: I think we've found our wolves!
Petra: You there! Get to cover! Eivor, with me. Let's end this.
Eivor: I am at your side.
Petra: Careful, they're aggressive!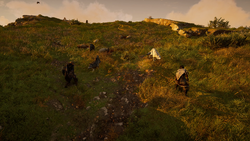 They quickly killed the wolves, and returned to the farmer.
Eivor: There. That should be all of them.
Anglo-Saxon Man: O, thank you! Thank you so much! Both of you!
Eivor: Are you all right? Were those your sheep?
Anglo-Saxon Man: They were, God take 'em. They were all I had in the world. Poor blighters never stood a chance. I lost my cows some months back. Now the sheep are gone. Frowning Jesus, what sort of farmer am I?
Petra: I'm sorry for you loss. With the wolves gone, you can recover in peace.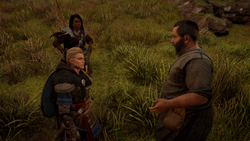 Anglo-Saxon Man: Not without the blessings of God, I won't. But I shall try.
Eivor: You have your life, farmer. With that alone you can always rebuild.
Petra: Eivor, hold... I hear something.
Anglo-Saxon Man: What? I don't hear anything.
Two sheep came running from over a hill.
Anglo-Saxon Man: O! Goodness gracious me! Felix! Rosemary! My beauties! You are alive! Come here, my precious angels!
Eivor: Well, that worked out.
Petra: This was grand, Eivor. You hunt almost as well as you fight.
Eivor: Give me a few weeks, I'll learn to track as well as you. Or better.
Petra: I would be happy to be so humbled.
Eivor: This was a joy, Petra. Do not hesitate to call on me the next time you spot any errant beasts.
Petra: You are the first on my list, Eivor. See you soon.
Outcome
Eivor helped Petra to deal with the wolf problem plaguing the settlement.
Gallery
References
Assassin's Creed: Valhalla memories