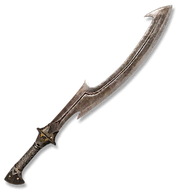 The Fang was a powerful, legendary khopesh designed to be unrivaled at shredding through armor and flesh. Its deadliness was not limited to its keen blade as it was also laced with a virulent toxin.
Description
Expressly designed to be unstoppable by any defenses, the Fang was among the sharpest khopeshes in the 1st century BCE Egypt. Like any other khopesh, its blade sharply arched forward a slight distance from the hilt before curving back for the tip to align with the hilt. Compared with other khopeshes like the similarly powerful Viper's Tooth or the common Bronze Khopesh, the Fang was more compact in profile; the arc was forged in such a way as to appear tucked together into a firm, resilient shape. Hooks protruded from either side of the back of arc while fullers lined either side of the blade. In contrast to the relatively plain blade, the silver hilt bore very fine engravings and patterns.[1]
Though the sword was already among the deadliest by its keen edges alone, it was also regularly laced with a poison which caused it to emit toxic fumes. Contact with this venomous blade could quickly lead to death via organ rupture.[1]
Weapon statistics
Rarity
Quality (Max Level 55)
Damage (Max Level 55)
Attributes
Availability
Legendary
Bleeding on Hit I

Critical Hit Damage IIII

Poison on Hit

Obtain the Desert Cobra Pack DLC, Helix Store
Description
The Fang was designed to shred anything it touches.
Appearances
References
Community content is available under
CC-BY-SA
unless otherwise noted.