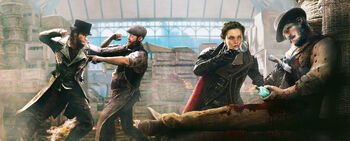 The Dreadful Crimes is a downloadable content pack of ten missions in Assassin's Creed: Syndicate. The missions are exclusive to the PlayStation 4 until their release to other platforms in March 2016. After exclusivity end, they were released on April 11th on PC.
Most of the memories take place before Sequence 9, while Murder at the Palace! takes place after.
Official synopsis
This content will include 10 side missions where Jacob and Evie can investigate murders, kidnappings, and other crimes throughout London. Investigate and follow the evidence to solve the crime for special rewards of gear and exclusive artwork.
Use your Eagle Vision to scan for clues and try to get to the bottom of the crime by following the evidence and interviewing witnesses. Make sure you pay close attention to the facts because suspects don't take kindly to false allegations — and if you accuse the wrong person, you may find yourself in a fight for your life.
Memories
Reference