Where are the paintings?


This article is in need of more images and/or better quality pictures in order to achieve a higher status. You can help the Assassin's Creed Wiki by uploading better images on this page.
The Burning of the Wicker Man was a virtual representation of one of Eivor Varinsdottir's genetic memories, relived by Layla Hassan through the Portable Animus HR-8.5.
Description
Eivor traveled to Glowecestre to witness the burning of the Wicker Man.
Dialogue
Eivor arrived back in Glowecestre and spoke with Gunnar, who was besides his love, Brigid.
Eivor: Gunnar. It's good to see a face I trust, even your frightful mug. I thought this could be our shared saga, but it's time to leave, and we spent time naught but a drink together.
Gunnar: Worry not, Eivor. You and I have many tales to tell yet. And our names ring out clear and with honor.
Eivor: Ja, a tale. A tale of Glowecestre. Beautiful land, full of damned fools.
Gunnar: Ha! I will drink to that. You have my thanks.
Eivor: Anything for you, old friend.
Gunnar: Then let us say our farewells to this Wicker King, and then be on our way home.
Eivor: Yes, Randvi will be eager to meet Brigid.
All three of them took their leave.
Eivor: Brigid and Gunnar have already gone ahead. I should join them.
Eivor may speak with Modron, if she was spared.
Eivor: You owe me your prophecy, witch.
Modron: And I shall give it. You are a great warrior, conqueror of this land, and that of your birth. But, at the end of all things, you will find yourself with nothing but your regrets.
Eivor: I ... I see.
The festival's burning was at its last minutes of preparation.
Cynon spoke to Eivor.
Cynon: Tell me please. What of Modron?
Eivor: Dead and burned on a pyre much like this one.
Cynon cried slightly.
Cynon: I didn't think... I hoped you would spare her at least.
Cynon faced Modron.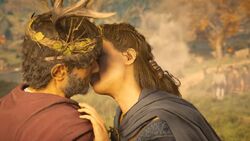 Cynon: We first met at Simkin's wicker man ascension. I was besotted with you at a glance.
Modron: So long ago ... Some poetic symmetry after twenty years of prosperity.
Modron went towards Cynon and kissed him goodbye. Afterwards, Modron left the conversation as she readied herself for the ceremony.
Cynon looked to Gwenydd.
Cynon: Gwen.
Gwenydd: Please don't do it. We can burn something else. Someone else.
As she started to back away, Gwenydd ran towards her father.
Cynon: Peace, dearheart, I will join the dirt that grows the trees and the barley. My body feeding the gods, worms, and even you. So, I will be here. And, a long, long time from now, when you're old and wrinkled like an apple ... you will see me again.
Gwenydd: Father, I thought I could be ready.
All prepared for the last rites before the burning.
Cynon turned around and gave Tewdwr the horned helm.
Cynon: Then this is yours.
Eivor: This is your path, Tewdwr. No thorns and briars could keep you from it.
Tewdwr: And you, Eivor, friend of Glowecestrescire. You have lived up to your reputation.
Cynon: I know you owe me less than nothing, but please, take care of them.
Tewdwr: I take no pleasure in the suffering of others. You would know this if you had given me a chance.
Cynon, regretful, walked to his townspeople.
Cynon: Twenty years I have been your ealdorman. Now these old bones are ready for my last duty. I have worked alongside you. Clearing fields, brewing drink, births, and deaths. All, growing and learning.
Halewyn walked towards Cynon.
Halewyn: The wicker man is ready, O King. Your altar awaits.
Cynon nodded.
Cynon: I am honored to be your Harvest King. With this flame set, may our crops be plentiful and our winters brief!
Cynon walked towards the Wicker Man.
Tewdwr: Despite it all, he has the ending he prayed for.
Eivor: Straight to the mouths of hungry gods.
Eivor held the starting fire for the burning.
Tewdwr: Eivor, the honor is yours.
Eivor set the fire.
Anglo-Saxon Man 1: Praise the Harvest King!
Anglo-Saxon Man 2: Bloody pagans!
Anglo-Saxon Woman 1: Dear God, preserve Cynon's soul.
Anglo-Saxon Man 3: Gods, please bless our fields with this sacrifice.
Townspeople came and threw their own fires for the burning as others celebrated the Wicker Man. Cynon gave his last praise inside the Wicker Man.
Cynon: Our Father, who art in Heaven. Our Mother, who art in Earth. Please − Please accept this offering. Take of me my flesh and bone and bless ... bless ... (screaming)
Cynon burned alive as the shire's people watched.
Tewdwr: The burning of the Harvest King. It is a momentous occasion for many here. Like the Christ, he sacrifices himself for his people. So that they may prosper.
Eivor: But this is an empty platter for your gods. Hungry bellies are known to retaliate.
Tewdwr: None can take Cynon's place. And to put his corpse in the pyre would be an insult. Christ turns his eyes from this ritual.
Eivor: But you condone it?
Tewdwr: I am to be Tewdwr of a united land. I can no longer turn my eye from anything.
Tewdwr: Tradition dictates the burning be overseen by the high priestess. Modron is missed here.
Eivor: My hand has hindered this blot (ceremony) twice then.
Gwenydd: Then I will oversee, as is my right, my blood.
Eivor: I took Modron from you. You have every right to feud with my line. Once you're old enough to hold a sword.
Gwenydd: Mother saw your fate. The future will punish you greater than I ever could.
Tewdwr: Punishment or not, you will go into the future as Glowecestrescire's ally. And someone I will never forget.
Modron walked into the conversation, besides Gwenydd.
Modron: Ealdorman Tewdwr.
Tewdwr: Mother Modron.
Eivor: So you two will form an accord? Heathens and Christ-kin in an uneasy truce?
Tewdwr: The pagans of Glowecestre are my people, just as the children of Christ are.
Eivor: And our alliance?
Tewdwr: Strong as iron. And someone I will never forget.
Tewdwr kissed Eivor on the cheek. Time passed as Halewyn commenced the ceremony.
Halewyn: Let the flame be set. May the crop be abundant.
Tewdwr: Eivor, the honor is yours.
Eivor set the fire.
Anglo-Saxon Man 1: Praise the Harvest King.
Townspeople came and threw their own fires for the burning as others celebrated the Wicker Man. As it burned, the shire's people watched.
Outcome
Eivor took part in the burning of the Wicker Man as the town watched the festival's end.
Behind the scenes
If Modron was killed during The Gutted Lamb, Gwenydd will appear at the burning. If Modron was spared, her and her daughter will be there saying goodbye to Cynon, if he still lived. Cynon's appearance depends on choices made during A Love Betrayed.
References