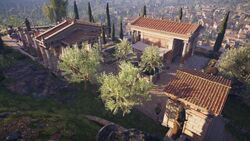 The Bloody Oracle was a temple built on an akropolis overlooking the city of Argos in Argolis, Greece. Just south of it was located Hippokrates' Clinic.
Dedicated to the Greek god of prophecy, music, and the sun, Apollo, a priestess would drink the blood of a lamb once a month, and relay prophecies in the dead of night.[1]
During the Peloponnesian War the misthios Kassandra visited the place, finding it to be occupied by Followers of Ares. She defeated their leader and looted their riches. [1]
Gallery
Appearances
References
Community content is available under
CC-BY-SA
unless otherwise noted.