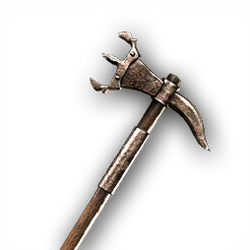 Testiklos' Nutcracker was a sledgehammer which belonged to Testiklos the Nut, a mercenary who operated in Greece, and who was also the half-brother of the Spartan Olympic champion Testikles.
During the Peloponnesian War, the Spartan misthios Kassandra received the weapon, among other rewards, after she defeated Testiklos for a bounty.[1] Later, when she visited the Isu Aletheia's simulation of the Greek Underworld, Kassandra met Testiklos' half-brother Testikles, and discovered he had made an exact replica of the weapon.[2]
Weapon statistics
Rarity
DPS (Lvl 99)
Default Engravings
Availability
Epic
7829
+24% Warrior Damage
+50% CRIT Damage
+20% Damage with Overpower Abilities
Defeat Testiklos the Nut
Description
The only thing Testiklos loved more than smashing things were fresh nuts. Smashed nuts.
Behind the scenes
Testiklos' Nutcracker, a weapon in Assassin's Creed: Odyssey, shares the same model as the commonly found Sledgehammer, another weapon in the same game. These are both the recycled model of the Gruesome Mattock, a weapon in Assassin's Creed: Origins, and thus are all based on the Roman Dolabra pickaxe.
Gallery
Appearances
References
Community content is available under
CC-BY-SA
unless otherwise noted.