This article is about the temple located in Messenia. For other uses, see Temple of Zeus.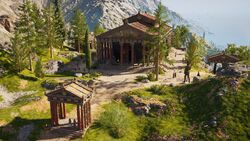 The Temple of Zeus was a temple located within the Mines of the Great Trench in Messenia, Greece. On the cliff overlooking the Andania Mine and Messene, the temple was built in honor of the Greek god Zeus.
In around 422 BCE, the misthios Kassandra confronted Amorges at the temple in search of her son, Elpidios, who had been taken away by Order of Dominion. Amorges assured Kassandra that Elpidios would be safe with the Order, and then proceeded to explain the Order's overall plan to bring peace to the world, calling her and her "kind" too dangerous to live. Kassandra proceeded to fight against Amorges with assistance from Darius, eventually defeating him with Darius pushing Amorges off the cliff.[1]
Gallery
Appearances
References
Community content is available under
CC-BY-SA
unless otherwise noted.