I wanted to ask you something. Which is… what's your name?


The title of this article is conjecture. Although the subject of this article is canon, no official name for it has been given.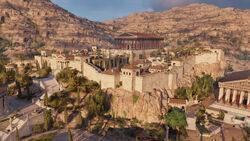 The Temple of Mars was a temple dedicated to the Roman god Mars, situated atop the akropolis of Cyrene.
In 47 BCE, the Medjay Bayek of Siwa infiltrated the temple to confront Flavius Metellus, the leader of the Order of the Ancients responsible for the murder of his son Khemu. Despite holding an Apple of Eden, Flavius was defeated and killed by Bayek.[1]
Gallery
Trivia
The Temple is fictional as there was no temple of Mars in Cyrene.
The Temple of Mars has the same floor tiles as the curia within the Theatre of Pompey which are actually based on the floor tiles of Curia Julia.
The statue of Mars is based on the statue of Mars from the Forum of Nerva.[2]
Appearances
References
Community content is available under
CC-BY-SA
unless otherwise noted.