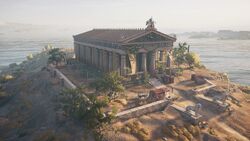 The Temple of Britomartis was a large temple dedicated to Britomartis, a Greek goddess of mountains and hunting, located west of Kydonia in the Little Egypt region of Messara, Greece.
During the Peloponnesian War, the temple was visited by the Spartan misthios Kassandra, who found a leg armor part of the Pilgrim Set within the temple.[1] In addition, stashes of obsidian glass were kept within the complex, leading Kassandra to recover them for a blacksmith from the Daktyls Depleted Mine.[2]
Behind the scenesEdit
The entrance of the temple is protected by sudis, a type of contemporary Roman fortification not seen in Greece, at the time.
AppearancesEdit
ReferencesEdit